Developing countries owe China at least $1.1 trillion – and the debts are due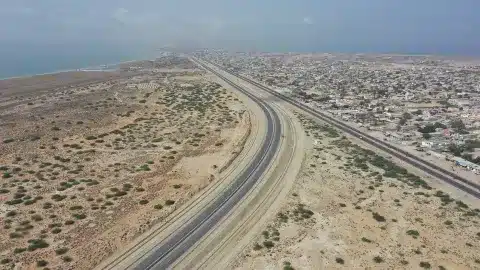 Developing countries owe Chinese lenders at least $1.1 trillion, according to a new data analysis published Monday, which says more than half of the thousands of loans China has doled out over two decades are due as many borrowers struggle financially.
Overdue loan repayments to Chinese lenders are soaring, according to AidData, a university research lab at William & Mary in Virginia, which found that nearly 80% of China's lending portfolio in the developing world is currently supporting countries in financial distress.
For years, Beijing marshalled its finances toward funding infrastructure across poorer countries – including under an effort that Chinese leader Xi Jinping branded as his flagship "Belt and Road Initiative," which launched a decade ago this fall.
That funding flowed liberally into roads, airports, railways and power plants from Latin America to Southeast Asia and helped power economic growth among borrowing countries. Along the way, it drew many governments closer to Beijing and made China the world's largest creditor, while also sparking accusations of irresponsible lending.
Now, 55% of China's official sector loans to developing countries have entered their repayment periods, according to the analysis of more than two decades of China's overseas funding across 165 countries released by AidData.
Those debts are coming due during a new and challenging financial climate of high interest rates, struggling local currencies and slowing global growth.
"A lot of these loans were issued during [the Belt and Road period starting in 2013] and they came with five- or six- or seven-year grace periods … and then [international debt suspension efforts during the pandemic] tacked on two additional years of grace where borrowers didn't have to repay," AidData executive director and report author Brad Parks told CNN.
"Now the story is changing … for the last decade or so China was the world's largest official creditor, and now we're at this pivot point where it's really about (China) as the world's largest official debt collector," he said.
AidData's figures are based on its database tracking what amounts to $1.34 trillion in loan and grant commitments from China's government and state-owned creditors to public and private sector borrowers in low- and middle-income countries between 2000 and 2021.
That dataset, built through collecting official and public source information about the individual loans and grants, provides one of the widest windows available into what are notoriously opaque Chinese funding activities.
The researchers also cited data reported by lenders to the Switzerland-headquartered Bank of International Settlements, which they said indicates developing country borrowers owe Chinese lenders at least $1.1 trillion and up to $1.5 trillion as of 2021.
'International crisis manager'
AidData says Beijing never had to deal with more than 10 financially-distressed countries with unpaid debts until 2008. But, by 2021, there were at least 57 countries with outstanding debt to Chinese state-owned creditors that were in financial distress, its data shows.
This appears to be a factor changing how China is lending.
Funding for the big-ticket infrastructure projects that had earned Beijing goodwill across the developing world are in sharp retreat. Instead, China is providing substantial numbers of emergency rescue loans, according to AidData.
Chinese lending isn't bottoming out though. China remains the world's single largest official source of development finance and continues to out-fund any single Group of Seven (G7) developed economy as well as multilateral lenders, the researchers say.
That's even as the United States and its G7 partners have ramped up their rival efforts. Together, they outspent China by some $84 billion in 2021.
Overall funding commitments from China to the developing world declined at the start of the pandemic, according to AidData. They fell from a peak that was approaching $150 billion in 2016 and dipped below $100 billion in 2020 for the first time since 2014.
But financing is still in the tens of billions, according to the most recent data from AidData, which documented $79 billion in commitments for 2021, including grants and loans, up $5 billion from the previous year.
By comparison, financing commitments from the World Bank totaled around $53 million in 2021.
Chinese infrastructure project lending as a share of total commitments to low- and middle-income country borrowers, however, fell from 65% in 2014 to 50% in 2017, and again from 49% in 2018 to 31% in 2021.
That year, 58% of lending was emergency rescue loans, which help distressed countries stay afloat by shoring up foreign reserves and credit ratings or helping them make debt payments to other international lenders.
This means China is increasingly acting as an "international crisis manager," according to AidData, which pointed out that which borrowers get bailed out depends on their risks to the Chinese banking sector.
"It's very telling that not everybody who's in debt distress gets an emergency rescue loan from China – what we find is that they really only channel these loans to the biggest Belt and Road borrowers where Chinese banks have the most balance sheet exposure," Parks said.
"At a superficial level, China is bailing out the borrowers, but at a deeper level it's bailing out its own banks."
'Muscling in'
The impact these troubled loans could have on China's own banking sector, which is burdened by mounting issues with domestic debt, is not clear.
China has joined other lenders in joint negotiations on debt relief for troubled borrowers such as Zambia and Ghana, but AidData researchers suggest it may have also undermined efforts for coordinated relief by "muscling its way to the front of the repayment line by demanding that borrowers provide recourse to cash collateral that others lack."
It has also been issuing stronger penalties for late repayments, they said.
China has consistently defended its debt relief record, saying it has played a "positive" and "constructive" role in multilateral efforts, noting last month that "debt sustainability has continued to improve" for the Belt and Road program.
Looking ahead, it has also moved toward syndicated loan arrangements, in which China works with Western commercial banks and multilateral institutions to vet projects and reduce future risk, according to AidData findings.
Half of China's non-emergency lending portfolio to developing countries is now provided via syndicated loan arrangements, with more than 80% of these arrangements involving those Western or multilateral partners, they said.
In recent years China has also moved to recalibrate the Belt and Road Initiative with an eye to bolstering oversight and reducing risk, amid backlash over environmental, social and labor concerns about projects.
Chinese officials have defended the initiative's impact. At a forum in Beijing last month focused on its Belt and Road drive, they hailed what they said was a new phase of the project focusing on "high-quality" development.
Meanwhile, for those countries already in debt and seeking to refinance with Beijing's emergency rescue loans, the AidData researchers warned that they "must be mindful of the danger of swapping less expensive debt for more expensive debt."
Source: CNN