Don't drag Sultan of Sokoto into politics, palace warns Peter Obi's supporters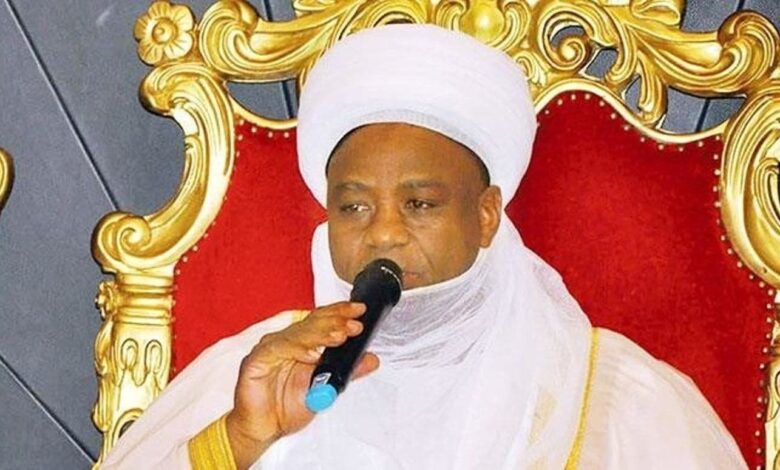 Sultan of Sokoto, Muhammad Sa'ad Abubakar has condemned what he called an irresponsible attempt to drag him into politics of 2023 by supporters of the presidential candidate of Labour Party, Peter Obi.
In a statement by Bashir Adefaka, his media aide, the Sultan denied purported statements reportedly released by him, saying, "Hold me responsible if Peter Obi didn't perform well, the problem of the North is from the north, not Peter Obi or an Igbo man, it will be worst and more deadly for the North if Tinubu wins, if they tell you an Igbo man is the problem of Nigeria, tell them Igbo man never rule Nigeria before and north is world poverty capital."
Th Sultan said this was not the first time such misleading statement would be circulated in effort to climb on his influential personality and name to score political goals, asking them to desist from it.
"Unfortunately for the these pitiable political campaigners, Sultan of Sokoto is – strictly speaking – a traditional ruler and leader of Muslims of Africa's most populous country. Moreso, as a retired Army General, his discipline, commitment and unalloyed to Nigeria is non-negotiable.
"For the avoidance of doubt, the statement is fake because such an irresponsible write-up, credited to him, could not have emanated from anywhere near or around His Eminence, Alhaji Muhammad Sa'ad Abubakar, CFR, mni, the Sultan of Sokoto and President General of the Nigerian Supreme Council for Islamic Affairs (NSCIA).
"Between Wednesday and Thursday, the Sultan played host to several figures including the outgoing and new General Officers Commanding (GOCs), Eighth Division, Nigerian Army, Sokoto, Major Generals O. Bassey and Godwin Mutkut, respectively, vice presidential candidate of the All Progressives Congress (APC), Senator Kashim Shettima, among others.
"It would interest Nigerians to know that presidential candidate of the Labour Party (LP), Dr. Peter Obi, was not one of those that paid visit to the palace, be it on Wednesday or Thursday.  So, how some agents of discord whose stock-in-trade is to thrive on cooking falsehoods and peddling of Fame news think that they can get through with this remains unknown to common sense.
"The simple challenge is to ask them to publish a copy of the letter purportedly written by the Sultan or a video or audio clip where he endorsed Peter Obi and denied APC presidential candidate, Asiwaju Bola Ahmed Tinubu as contained in their peddled fakeness. If they cannot, and of a surety they cannot, they should desist from this indefensible claim and unpardonable lie using the good bane of his His Eminence because it will backfire.
"It should, however, be made clear to the good people of Nigeria that this , like many others in the past by the Peter Obi campaigners, would not stop the Sultan from continuing to play his role as a multifaceted leader and father of all and so, his doors will remain open to all aspirants across all parties and other meaningful people from across the country.
"More important to Sultan Sa'ad Abubakar at this time and always are security, peace and unity of Nigeria, especially as the nation is fast moving into its long planned and heavily invested general elections. He will continue to support all efforts that will lead to success of the election process. So, let any incoherent claims of naysayers be ignored. Sultan is not a politician," the statement read in part.