Edwin Clark endorses Obi for presidency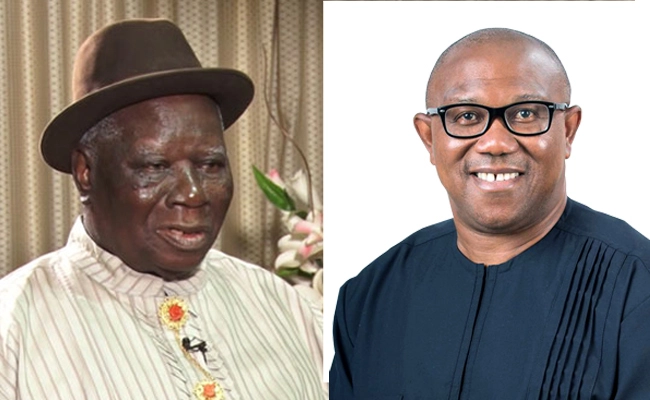 South South leader, Chief Edwin Clark has endorsed the presidential candidate of Labour Party, Peter Obi for president.
Clark announced this while speaking to newsmen in Abuja on Tuesday.
He said Obi remains the "best hope of a new Nigeria of peace, stability and progress."
His endorsement comes days after former President Olusegun Obasanjo also backed the former Anambra State governor for the nation's number one seat.
Clark said he was also going to convince the Pan-Niger Delta Forum to endorse the LP candidate.
"Taking all these factors into consideration, and putting His excellency Peter Obi side by side with all other candidates being presented by other political parties, I am convinced beyond doubt, that our country Nigeria has a great opportunity to elect a phenomenal team, the candidate of the Labour Party, and his deputy, senator Datti Baba-Ahmad, as president and vice-president respectively.
"I formally hereby announce that I will, therefore, personally, vote for HE Peter Obi and his vice presidential candidate on election day, February 25th, 2023, as president and vice-president of the Federal Republic of Nigeria.
"I also call on all well Nigerians irrespective of ethnic, religious and even political backgrounds to vote for H.E. Peter Obi without hesitation, as he is our best hope of a new Nigeria of peace, stability and progress.
"I have also requested the leadership of PANDEF, as a democratic institution and all other socio-cultural and socio-political bodies which I head to consult with their members at the levels of the states, local governments and diaspora to take further steps in supporting my choice of H.E Peter Obi.
"That the vision statement shared by his excellency Peter Obi at the occasion, as it relates to making Nigeria more productive, using the rich resource endowment in every part of the country; curbing waste and fighting corruption; and creating jobs for our teeming youths through innovative initiatives is very commendable.
"That his restated commitment to restructuring and devolution of power will promote harmony and peaceful coexistence amongst the states and constituent parts of the country.
"That his vision for more equity and justice as it pertains to the South-South region, which in the past sixty years has produced much of the revenue for the national economy, but has been neglected with little impact in terms of infrastructure and social development, is convincing and commendable.
"Peter Obi's commitment to environmental justice to the clean up of the Niger Delta polluted communities is most welcomed, given that even the ongoing Ogoni clean-up has been rather slow.
"His commitment to the inclusion of qualified persons from the Niger Delta in the national governance process in the future government if elected into power is very reassuring," he said.