Ekiti first lady makes first appearance at Nigeria Governors' Wives Forum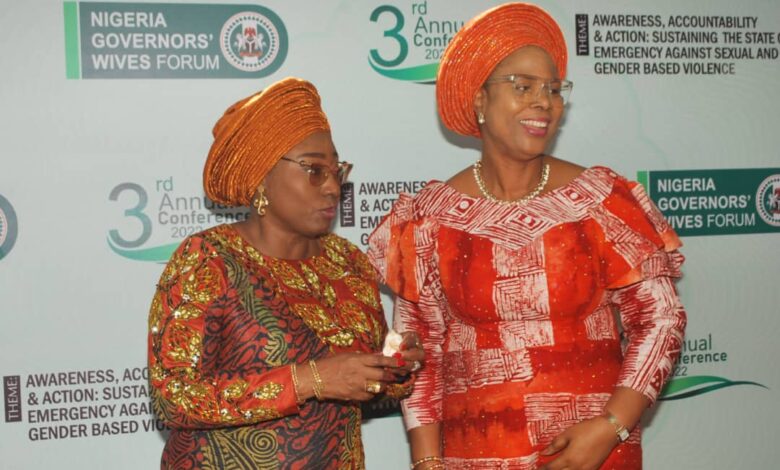 …pledges to domesticate the forum's vision to tackle GBV
Ekiti State First Lady, Dr Olayemi Oyebanji, on Monday, made her first appearance at the Nigeria Governors' Wives Forum, during its 3rd Annual Conference 2022.
The conference was the national edition of the 16 days of activism against Gender Based Violence (GBV), with the theme: "Awareness, Accountability and Action: Sustaining the State of Emergency Against Gender Based Violence."
Dr. Oyebanji, who received a rousing reception from other first ladies, led by the wife of the Sokoto State Governor, Hajiya Mariya Aminu Tambuwal, described the gathering as a forum of focused and upright women, who shared the same vision to protect the right of women and the girl-child.
Speaking on the sidelines of the conference, the Ekiti First Lady, expressed her determination to domesticate the good vision of the forum, as well as, touching on other areas that would compliment the good work her husband is doing to lift an average Ekiti residents.
She said: "Today is significant to me as I am officially admitted to the forum of Nigeria First Ladies. In particular, the conference is heartwarming, because being an interactive forum with Governors first ladies and stakeholders in the fight against GBV, it enabled us to share ideas on how best to approach the issue at hand.
"The 3-day event was not only a huge success but another beautiful opportunity for us as leaders to further our campaign in support of the girl-child and protection of women's right.
"I have no doubt in my mind that our efforts would add greater value to the Girl child's world, as we stand together against gender based violence in our world."
Dr Oyebanji, who commended the immediate past Chairperson of the NGWF, Erelu Bisi Fayemi, for her forthrightness and charismatic approach to address GBV in Nigeria, used the occasion to further appeal to parents to always train their children on proper moral conduct that would prevent them from being wayward and make them victims of sexual molestation.
According to her, intimacy with children remained the best approach to knowing the secret affairs of younger ones, noting that, such would assist parents in proper upbringing of their wards.
She explained that there were existing laws in Ekiti against such criminal practices, which she warned, would take its course anytime they were violated.
She added that, the government would look inwards into the already existing structures in the state, so as to accommodate new challenges.
"We will ensure that we gazette all our public policy laws and also review some of our laws to include, whistle blowers and witness of sexual violence crime protection, mandatory reporting, among others," Oyebanji said.