Ekiti First Lady, Olayemi inaugurates Women Campaign Council for Tinubu/Shettima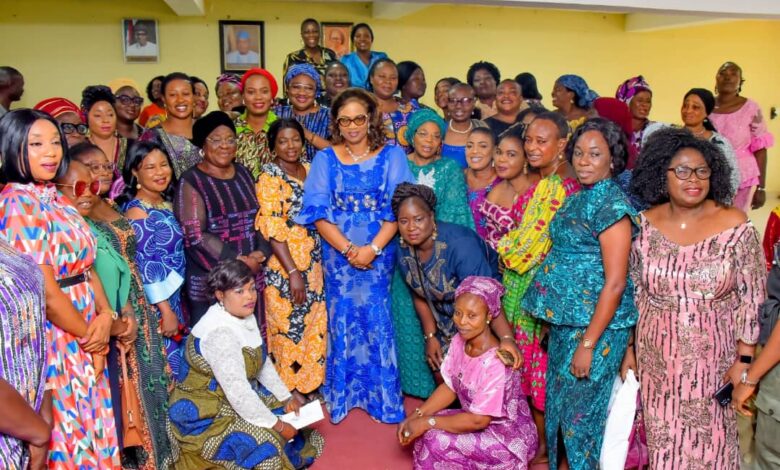 …predicts victory for APC candidates in 2023
Wife of Ekiti State Governor, Dr Olayemi Oyebanji, has inaugurated the women wing of the Tinubu/Shettima Campaign Council, otherwise known as 'Women Campaign Council for Tinubu/Shettima'.
Speaking during the inauguration in Ado Ekiti on Monday, Dr. Oyebanji charged members of the various committees to work assiduously towards the party's victory in 2023.
The wife of the governor, who disclosed that the contribution of some women leaders during the June 18 governorship election was one of the reasons for their selection into the current committees, urged them to work harder ahead of the February 2023 presidential election.
She said: "Today, another history is being made in Ekiti as gallant women politicians are being inaugurated to mobilize Ekiti people, especially women towards the 2023 Presidential election. Considering the outcome of the June 18 governorship election and the role played by Ekiti women, I'm not in doubt that we would do better to elect Tinubu as President and other candidates of our party in 2023.
"While I'm congratulating leaders and members of the various committees, I implore you all to buckle up to give our party the desired victory at the poll. I'm confident in our capacity as a party to win the election."
As the Chairperson of the campaign council, the First Lady urged the women to shun division and embrace togetherness in order to achieve outstanding victories in the forthcoming elections.
She noted that the best support the women could give the government of Mr. Biodun Oyebanji is to actualize victory for APC candidates in the 2023 general elections.
According to her, the committee will not only campaign for Asiwaju Bola Tinubu and Alhaji Kashim Shettima, but will also mobilize votes for APC candidates into the National and State Assemblies.
Dr Oyebanji called on the committee members to swing into action, prepare their blueprint of action and commence campaign activities immediately.
In her remarks, the State Deputy Governor, Princess Monisade Afuye reiterated the contributions of the Women Campaign Council to the success recorded in the Ekiti State gubernatorial election.