Ekiti Governor, Oyebanji, applauds 'mentor' Sanwo-Olu for quality leadership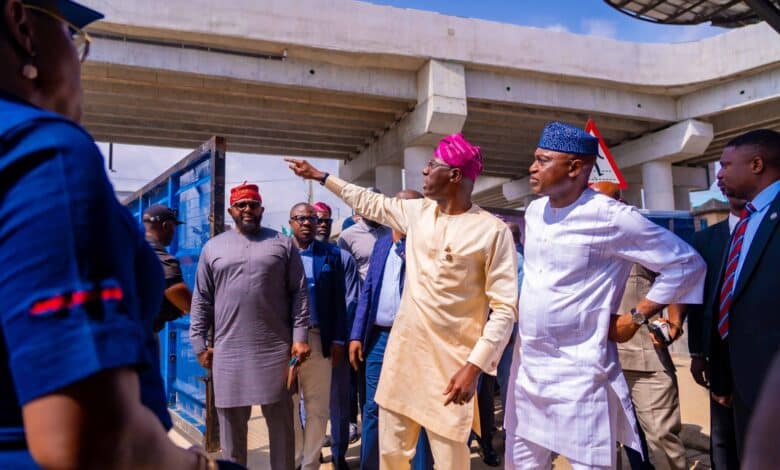 Lagos State Governor Babajide Sanwo-Olu's excellent performance and commitment to good governance have earned a strong endorsement from his Ekiti State colleague, Governor Biodun Oyebanji.
Oyebanji, on Sunday, extolled Sanwo-Olu's leadership virtues, applauding the Lagos' helmsman for committing to reforms and development vision, which, he said, had transformed Lagos to become a model for other States to emulate.
Ekiti Governor spoke at the commissioning of Oyingbo Flyover, an ancillary infrastructure for the Lagos Red Line being constructed by the Sanwo-Olu administration.
Oyebanji, who was invited to commission the project, described Sanwo-Olu as "a beacon of hope, mentor" for first-time Governors. Ekiti Governor accorded his admiration to Lagosians for re-electing Sanwo-Olu to continue in office, calling the decision as the best.
Oyebanji said: "I use this opportunity to express my sincere gratitude to Lagosians for re-electing Governor Babajide Sanwo-Olu into office. Without his election, the progress being witnessed today would not have been possible. This event speaks to what is possible when you have a thinking leadership and a government that works with a vision at the helm. Governor Sanwo-Olu has built on the vision, policies and programmes of his predecessors.
"Among the first time Governors, Sanwo-Olu is our mentor. What we have seen here speaks to his ability, commitment and determination to make this great State better. My advice to Lagosians is for you to guide your progress jealously; you can't afford a reversal of what the progressive government has done in Lagos. Governor Sanwo-Olu has been a man of excellence and a beacon of hope for us who are first-time Governors."
Oyebanji said Sanwo-Olu's stride in Lagos governance was audible to the deaf and visible to the blind, stressing that the Governor had delivered landmark projects that could be seen and touched.
The Ekiti Governor hailed his Lagos counterpart for committing to the vision of President Bola Ahmed Tinubu, whom he said laid the foundation blocks for New Lagos being built by Sanwo-Olu.
Oyebanji said Lagos residents had benefited greatly from the thinking leadership that had been governing the State since the days of Tinubu as Governor.
He said: "Lagos has become a model of transformative leadership, progressive reforms, innovation and good governance. My advice to Lagosians is that, when you have a system that works, you must guide it jealously. I advise Lagosians to treasure this pact and ensure that they continue to drive on this progressive lane for continuous prosperity.
"Ekiti State has a lot to learn from Lagos in terms of creating a practicable development vision that will be passed on to successive administrations. This is the first time, in several years, which Ekiti is witnessing unbroken transition to Government by the same political party. Ekiti is toeing the same path, as we are committed to build on the foundation laid by my predecessor."