Ekiti governor's wife, APC chair, unveil door-to-door campaign for Tinubu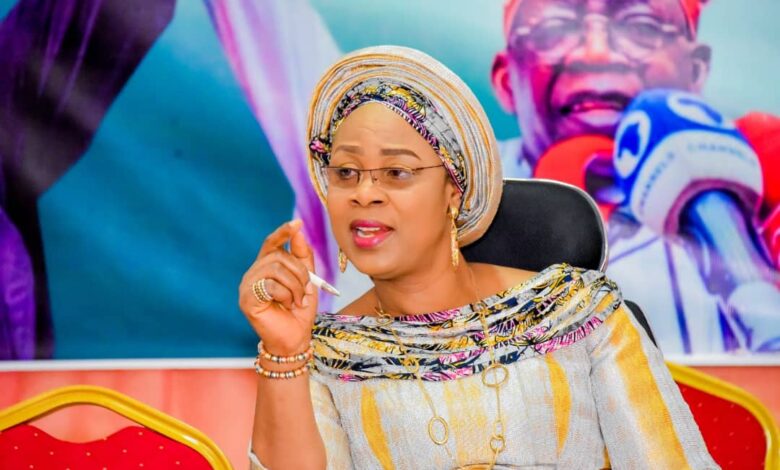 …target 90% votes
The wife of Ekiti State Governor, Dr Olayemi Oyebanji has launched the door-to-door campaign for the candidates of the All Progressives Congress (APC), Asiwaju Ahmed Bola Tinubu in the forthcoming general elections.
Oyebanji, alongside the APC state chairman, Mr. Paul Omotosho, Secretary to State Government, Dr. Abibat Adubiaro on Tuesday in Ado Ekiti, led other party faithful to officially unveiled the; 'Tinubu/Shettima Women Presidential Door-to-Door Campaign Team.
Described as a departure from the crowd renting charaterised by the public rally, the innovation is to havest voters through grassroots mobilisation for the APC presidential candidate, his running mate Ahlaji Kashim Shettima and other candidates of the party.
According to the governor's wife, the door-to-door campaign initiative was first employed during the last gubernatorial election in the state and it yielded positive result for the party.
She urged all the party loyalists across the state to be more committed and spread the message of new hope which Tinubu represented, as well as avoid any act inimical to objective of the campaign.
"I urge each and every one of you to approach your duties with the utmost diligence and commitment, exerting our political influence and, against whatever odd and obstacles we might encounter. This is not just a campaign for Asiwaju/Shetima, but for the betterment of our country and its people.
"Together, we must work tirelessly to spread the message of hope and the renewed hope for that matter, which Asiwaju Bola Ahmed Tinubu represents. We must reach out to every nook and cranny of our nation starting from here in Ekiti State and make sure that we do everything humanly possible within our influences, to ensure every citizen knows that with Asiwaju at the helm, we can build a stronger, more prosperous, and more united Nigeria," she stressed
In his remarks, APC Chairman, Mr. Omotoso noted that the essence of the initiative was to ensure that there is personal contact with the electorate, so as to know and understand the voters commitment to the aspiration of APC candidates.
The SSG, Alhaja Adubiaro, who also emphasized that the door-to-door campaign was very impactful during the last election in Ekiti State, reassured that it would do the same in the presidential poll.
She described the party flag bearer as a benefactor to many successful politicians and a foremost Yoruba leader who would definitely salvage the country from various problems bedeviling it.