BREAKING: Ekweremadu bags 9-year jail term for organ trafficking, wife 4 years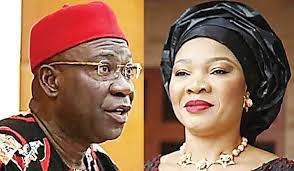 Former Deputy Senate President, Ike Ekweremadu, who was described by Mr. Justice Johnson as the "driving force throughout", has been sentenced to nine years and eight months in prison for organ trafficking.
His wife, Beatrice was jailed for four years and six months due to her more limited involvement.
Ekweremadu, 60, and his wife Beatrice, 56, wanted the organ for their 25-year-old daughter Sonia, the couple's trial at the Old Bailey heard.
The pair and Dr Obinna Obeta, 50, were convicted previously of conspiring to exploit the man for his kidney.
It is said to be the first such case under modern slavery laws.
Dr Obeta was sentenced to 10 years after the judge found he had targeted the potential donor who was young, poor and vulnerable.
During a televised sentence hearing, Mr Justice Johnson recognised Ike Ekweremadu's "substantial fall from grace".
He said: "People-trafficking across international borders for the harvesting of human organs is a form of slavery."
Their victim, a poor street trader in Lagos, was brought to the UK to provide a kidney for the Ekweremadus' daughter.
He fled in fear of his life and walked into a police station exactly a year ago to report what had happened after the Royal Free Hospital called a halt on the private £80,000 procedure.
BBC