Elumelu commends Femi Otedola's investment in Transcorp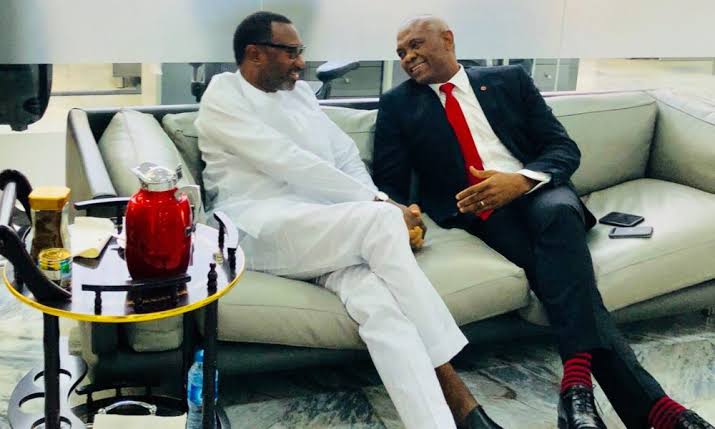 Billionaire businessman Femi Otedola's recent acquisition of a 5.52 percent stake in Transnational Corporation Plc (Transcorp) has been commended by the conglomerate's Group Chairman, Tony Elumelu.
Otedola has become the second-largest shareholder in Transcorp Plc, and reports suggest that he has upped his stake to 6.3 percent.
Speaking in an interview with Arise TV, Elumelu expressed his excitement about Otedola's investment in the company and his eagerness to work with him.
He said: "He's my very good friend. In fact, I only follow two people on Instagram, my wife and Femi Otedola. That shows the level of friendship we have. He's a man I admire, and we call ourselves brothers. I welcome Femi, I call him FO or Ote-Dollar. I welcome his investment in Transcorp."
Elumelu went on to explain that having more people show interest in the company is good for shareholders.
"That is because the more people show interest in the activities and performance of the company, the better for shareholders. You want to make your stock investors' toast, and I am happy that Transcorp is becoming investors' toast," he added.
Elumelu highlighted the company's success under his leadership.
"About 10 years ago before we took over Transcorp, people were not interested. People lost confidence in the company. Today under our leadership, Transcorp has consistently paid dividends in the last five years. There is capital appreciation for the company," Elumelu said.
Regarding Transcorp Power, a subsidiary of Transcorp Plc, Elumelu denied reports of planning to list it on the Nigerian Exchange Limited (NGX) anytime soon.
He said: "No, I hear that rumor from time to time, especially after some competing institutions were listed on the exchange. We are long-term players. We wanted to grow more and more significantly."
However, Elumelu confirmed that Transcorp Power may be listed on the NGX in about five years if transmission lines and challenges with gas supply are resolved.
"We are looking for about five years from now to list on the NGX. We believe in the next five years, the transmission line will be fixed and gas supply to the sector would have improved significantly," he noted.
Elumelu praised Otedola for investing locally, saying, "I am happy that Femi Otedola is investing locally, and he should be commended for that. When friends and the investing public invest in a public company like this, it is a validation and tells you they believe in your story, vision, management, leadership, and competence. I like my friend (Otedola) coming on board, and I look forward to working with him to take Transcorp to greater heights."