Eno presents N845.632bn 2024 Akwa Ibom budget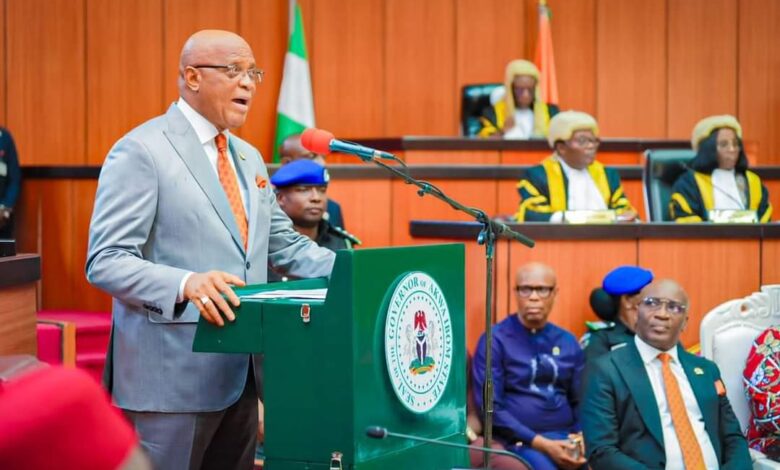 Akwa Ibom State Governor, Umo Eno, on Tuesday, presented the 2024 budget proposal of N845.632 billion to the State House of Assembly.
The budget, which is christened "ARISE Budget for Growth and Expansion", is based on an oil benchmark of 73.96 per barrel at a production rate of 1.78 million barrels per day with an estimated exchange rate of ₦700/US.
The Governor said the budget is predicated on the five critical pillars of development that are captured in his ARISE Agenda: Agricultural Revolution, Rural Development, Infrastructural Maintenance, Security Management and Educational Advancement.
He said the budget reflects his administration's vision to ignite agricultural revolution, widen the industrial base, improve service delivery, empower women and youth, and maintain peace and security in the state.
Governor Eno highlighted some of the achievements of his administration in the first five months, such as the signing of the Memorandum of Understanding (MoU) with Songhai Farms, the establishment of Ibom Fish City, the construction of model primary schools, the payment of gratuities and leave grants, the creation of a full-fledged Ministry of Internal Security and Waterways, and the expansion of Ibom Air.
The Governor also thanked the people of Akwa Ibom for their overwhelming support and trust in him, and expressed his gratitude to President Bola Tinubu, Senate President Godswill Akpabio, his predecessor Udom Emmanuel, and other political leaders for their guidance and cooperation.
The Governor said the total projected recurrent revenue for 2024 is estimated at ₦561.000 billion, while the total recurrent expenditure is proposed at ₦352.917 billion.
He said the total capital receipts and expenditure for 2024 is estimated at N492.715 billion, with the sectoral allocation as follows:
Administration: N174.448 billion (20.6%)
Economic: N538.881 billion (63.7%)
Law and Justice: N15.780 billion (1.9%)
Regional: N0.449 billion (0.1%)
Social: N116.074 billion (13.7%)
The Governor said the Commissioner for Finance will provide additional details on the sectoral allocations on Wednesday.