Equities market depreciates by 0.12% on losses in 17 stocks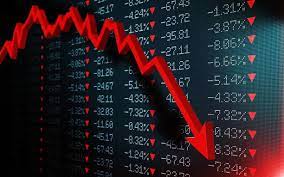 The equities market of the Nigerian Exchange Limited (NGX) on Thursday returned to negative position with 0.12 per cent decline on losses in 17 stocks.
The All Share Index (ASI) fell by 67.15 basis points or 0.12 per cent to close at 54,359.90 basis points, while investors lost N37 billion in value as market capitalisation declined to N29.608 trillion.
The downturn was impacted by losses recorded in medium and large capitalised stocks, amongst which are; TotalEnergies Marketing Nigeria, Geregu Power, Nigerian Breweries, GlaxoSmithKline Consumer Nigeria and Nigerian Exchange Group.
Market breadth closed slightly negative as 17 stocks lost relative to 16 gainers. Northern Nigeria Flour Mill recorded the highest price gain of 9.74 per cent to close at N10.70 per share. Red Star Express followed with a gain of 9.49 per cent to close at N2.77, whil SUNU Assurance appreciated by 9.38 per cent to close at 35 kobo, while Tripple Gee & Company gained 8.70 per cent to close at N1.25 per share.
On the other hand, GlaxoSmithKline Consumer Nigeria led the losers' chart by 7.91 per cent to close at N6.40, while Cornerstone Insurance and Veritas Kapital Assurance followed with a decline of 4.76 per cent each to close at 60 kobo and 20 kobo respectively per share.
Wapic Insurance shed 4.44 per cent to close at 43 kobo, while Fidelity Bank shed 3.39 per cent to close at N5.70 per share.
Meanwhile the total volume of trades rose by 48.68 per cent to 225.378 million units, valued at N3.149 billion, and exchanged in 3,339 deals.
Transactions in the shares of Universal Insurance topped the activity chart with 71.810 million shares valued at N14.362 million. Guaranty Trust Holding Company (GTCO) followed with 22.317 million shares worth N560.374 million, while Sterling Bank traded 12.909 million shares valued at N19.753 million.
AIICO Insurance traded 11.432 million shares valued at N6.905 million, while FBN Holdings (FBNH) transacted 10.901 million shares worth N128.802 million.
Analysts said: "The market has rallied significantly, raising fears of an over-extended market. We expect sustained bullish sentiments as we anticipate downbeat money market yields till Q2, 2023 and positive earnings results could potentially drive buy-interest.
"However, as technical indicators point to a greater downside potential for equities, we consider buying equities a 'riskier' rather than 'wrong' strategy, while favouring reducing portfolio exposures as the ideal approach. Consequently, we recommend investors book profits on their portfolios as upside opportunities run thin."