Equities market depreciates by N36bn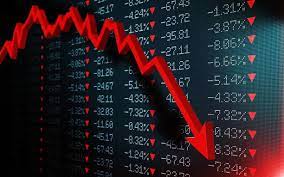 The equities market of the Nigerian Exchange Limited (NGX) on Thursday extended losses from the previous session, bringing the market down by N36 billion.
Accordingly, the NGX All Share Index (ASI) declined by 64.58 basis points or 0.09 per cent to close at 68,271.14 basis points. Also, market capitalisation shed N36 billion to close at N37.365 trillion.
The downturn was impacted by losses recorded in medium and large capitalised stocks, amongst which are; Northern Nigeria Flour Mills (NNFM), Oando, Nigerian Breweries, MTN Nigeria Communications (MTNN) and Flour Mills of Nigeria.
As measured by market breadth, market sentiment was negative, as 20 stocks gained relative to 30 losers. John Holt recorded the highest price gain of 10 per cent to close at N1.72, while Omatek Ventures and DAAR Communications followed with a gain of 9.52 per cent each to close at 46 kobo and 23 kobo respectively, per share.
Mutual Benefits Assurance up by 9.30 per cent to close at 47 kobo, while SUNU Assurance rose by 9.09 per cent to close at 96 kobo, per share.
On the other hand, Oando led the losers' chart by 9.93 per cent, to close at N13.15, per share. Lasaco Assurance followed with a decline of 9.71 per cent to close at N1.86, while Chams Holding company lost 9.59 per cent to close at N1.32, per share.
NNFM depreciated by 9.23 per cent to close at N15.25, while Tantalizers declined by 8.57 per cent to close at 32 kobo, per share.
The total volume traded rose by 98.34 per cent to 1.124 billion units, valued at N5.819 billion, and exchanged in 7,949 deals. Transactions in the shares of Universal Insurance topped the activity chart with 669.012 million shares valued at N134.206 million.
Oando followed with 100.688 million shares worth N1.456 billion, while Japaul Gold & Venture traded 43.739 million shares valued at N 43.385 million.
Access Holdings traded 40.145 million shares valued at N681.949 million, while United Bank for Africa (UBA) sold 32.451 million shares worth N 552.752 million.