Equities market depreciates by N601bn amid investors profit-taking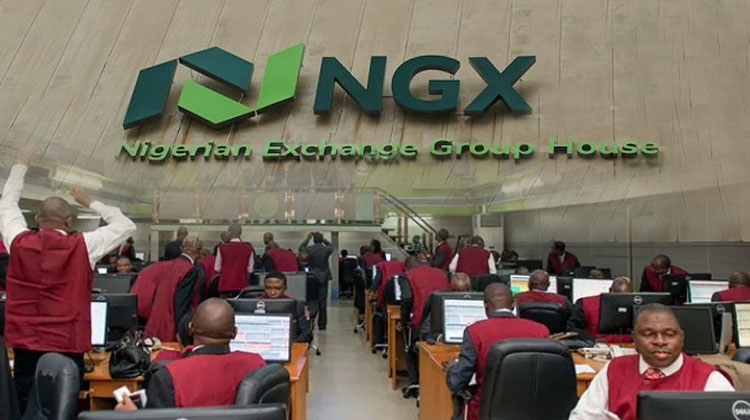 Investors weak sentiments continue to reverberate in the equities market of the Nigerian Exchange Limited (NGX) with the absence of positive triggers to turn the tide for the market.
As a result of the sustained lacklustre performance on the Exchange, All-Share Index posted another decline by 2.08 per cent week on week (W-o-W) to 51,893.94 basis points amid sell pressure in some of the small, mid and large cap stocks.
Also, the market capitalization shed N601 billion week on week to N28.268 trillion.
Across the sectors last week, performance was largely on a bear trend across the indices except for the NGX Consumer Goods index which appreciated by 0.05 per cent week on week.
On the other hand, NGX Banking index declined by 1.40 per cent W-o-W. NGX. Insurance index recorded 1.50 per cent loss as a result of sell-pressure, while NGX Industrial Goods index shed 0.40 per cent due to negative price movements.
Market breadth for the week was negative as 18 equities appreciated in price, 39 equities depreciated in price, while 99 equities remained unchanged.
Transnational Corporation (Transcorp) led the gainers table by 23.36 per cent to close at N1.69 per share. International Breweries followed with a gain of 11.11 per cent to close at N4.50, while Skyway Aviation Handling Company went up by 10 per cent to close to N5.50 per share.
On the other side, Consolidated Hallmark Insurance led the decliners table by 13.64 per cent to close at 57 kobo per share. Neimeth International Pharmaceuticals followed with a loss of 10.34 per cent to close at N1.30, while May & Baker Nigeria declined by 10.00 per cent to close at N5 per share.
Overall, a total turnover of 2.824 billion shares worth N10.964 billion in 15,686 deals was traded last week by investors on the floor of the Exchange, in contrast to a total of 1.054 billion shares valued at N10.050 billion that exchanged hands previous week in 16,155 deals.
The Conglomerates Industry (measured by volume) led the activity chart with 1.797 billion shares valued at N2.495 billion traded in 931 deals; contributing 63.65 per cent and 22.76 per cent to the total equity turnover volume and value respectively.
The Financial Services Industry followed with 590.745 million shares worth N5.615 billion in 7,869 deals, while the ICT Industry traded a turnover of 313.737 million shares worth N1.213 billion in 1,340 deals.
Trading in the top three equities; Transnational Corporation, Chams Holdings Company and United Bank for Africa (measured by volume) accounted for 2.254 billion shares worth N3.852 billion in 1,922 deals, contributing 79.81 per cent and 35.14 per cent to the total equity turnover volume and value respectively.
However, capital market analysts have stated that bearish performance is expected to linger on the equities market on account of sustained weak investor sentiment.
The stock market suffered has suffered losses in the face of buying and selling interest in expectations for the pending 2022 audited financials and Q1, 2023 scorecards.
However, market volatility remains at the extreme on mixed sentiments while investors continue to seek safer investment haven as hedge against inflation in the face of attractive fixed income yields.
In the week to come, analysts at Cowry Assets Management Limited expected mixed sentiments to linger as market players continue to trade cautiously ahead of the March 2023 inflation numbers and Q1 earnings expectations.
"However, investors are expected to trade cautiously as insecurity and political post-election jitters continue to headline Nigeria's macros. Also, we continue to advise investors to trade on companies' stocks with sound fundamentals and a positive outlook," it stated.
On outlook, GTI Securities Limited said: "The Nigerian equity market maintains bearish trend to close for the week as investors continue to trade cautiously. The conclusion in MPC meeting will be pivotal for next week's market trend."
Cordros Securities Limited noted: "With the moderation in the prices of bellwether stocks over the past weeks, we expect the bulls to make a re-entry. We believe this may be further influenced by positive Q1, 2023 earnings releases.
"In the medium term, we expect investors' sentiments to be influenced by developments in the macroeconomic landscape and the movement of yields in the fixed income space. Notwithstanding, we advise investors to take positions in only fundamentally justified stocks as the unimpressive macro story remains a significant headwind for corporate earnings."