Eurobonds rise after Tinubu declares fuel subsidy removal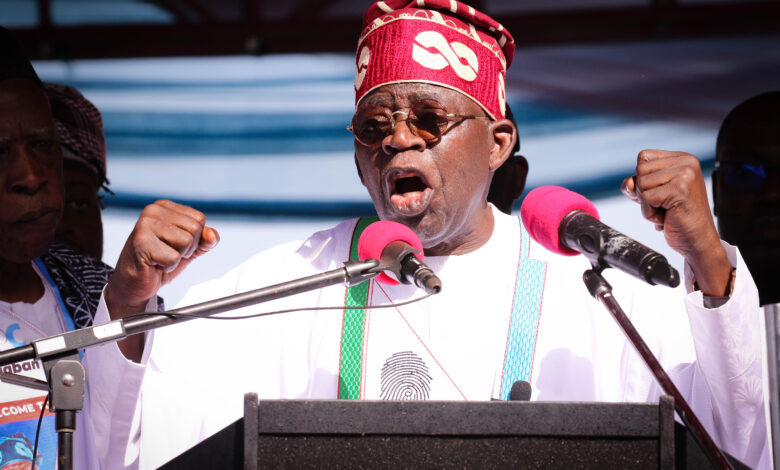 Nigeria's sovereign dollar-denominated bonds rose on Tuesday after President Bola Tinubu said at his swearing in on Monday that a costly fuel subsidy would be removed and the Central Bank of Nigeria (CBN) should work towards a unified exchange rate.
Eurobonds rose as much as 3 cents in the dollar, with the 2029 maturity at 87.25 cents by 1251 GMT. Its yield of 11.43per cent was the lowest since the end of January.
The naira currency hit record lows against the U.S. dollar on the forward markets, with the three-month forward at 564 naira to 1 dollar, while Nigerian stocks rose four per cent to a more than two-month high.
Tinubu, whose victory is being disputed in court by his main rivals, inherits record debt, foreign exchange and fuel shortages, nearly two-decades-high inflation, poor power supply and falling oil production due to crude theft and underinvestment.
"The market is positive about the new president and the reform plans," said Tajudeen Ibrahim, director of research at Nigerian investment firm Chapel Hill Denham.
Getting rid of the fuel subsidy, which cost $9.7 billion in 2022, reforming the foreign exchange market so profits can be repatriated and raising tax revenues are all priorities for international investors, many of whom have pulled out of Nigeria in recent years.
Tinubu's announcement, however, lacked details.
"The finance ministry's budget already excluded an allocation for fuel subsidies in the second half of 2023," said the Netherlands-based Yvette Babb, a portfolio manager at William Blair Investment Management.
"There is, however, likely to be a supplementary budget to accommodate for higher spending this year. This could technically accommodate additional spending on, for example, fuel subsidies, if this latest commitment proves too unpopular and or takes more time to implement."
Removing the fuel subsidy will increase inflation in the short term, but improve Nigeria's economy and fiscal health long term, South African research firm ETM Analytics said in a note.
Tinubu enacting his election pledges "will underpin investor confidence", it said.
Nigeria's debt office said on Tuesday it would sell a new 30-year bond on the local market next month to extend maturity and boost government's domestic borrowing.