EXCLUSIVE: Peter Obi may step down for Atiku, as campaign council considers option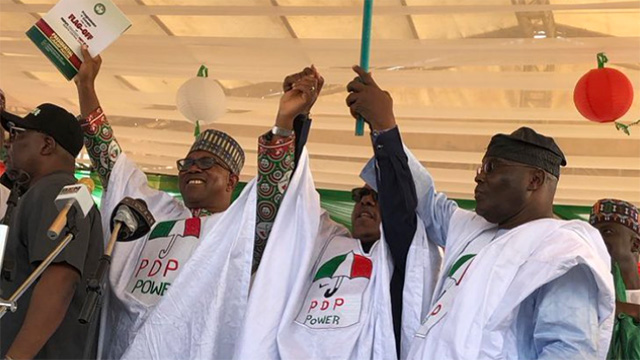 …LP candidate set to meet with ex-VP's team
Having realised that there is no path to victory in next month general election, the campaign council of the Labour Party Presidential candidate, Peter Obi is already considering how the former Anambra State Governor will step down for Atiku Abubakar, the Peoples Democratic Party candidate.
WesternPost exclusively gathered from top officials of the Peter Obi campaign team that many of the associates of the Labour Party candidate and advisers have come to the realisation that the coming election is going to be a straight fight between APC and PDP.
Our correspondent gathered that key officers of Labour Party Presidential Campaign Council met on Monday at a top hotel in Abuja where they reviewed the state of their campaign so far and the prospect of Peter Obi, following the emerging realities and lack of ground enthusiasm to Peter Obi from his campaign stops in the North, South-West and South-South
Peter Obi and his running mate, Yusuf Datti Baba-Ahmed have been welcomed by almost empty stadia at his rallies which is a clear indication that his presidential bid lacks steam with real voters. The Labour Party candidate has carried on with his campaign activities largely based on social media energy of many active young people on Twitter and Facebook.
A top source who is in the know told WesternPost that apart from the reality of winning the election hitting home, there is serious in-fighting in Obi's camp where many of the vocal campaign officials are all jostling for relevance and protecting their territories.
At the meeting that took place in Abuja on Monday, our source revealed that Valentine Ozigbo, PDP candidate in last Anambra State Governorship election and Peter Obi's protege and Ndi Kato, a Spokesperson of the Labour Party Campaign Council agreed that their party and candidate do not have the number to win with a state by state analysis of the electoral map.
The meeting analysed Atiku's chances and the existing relationship between the PDP candidate and Peter Obi. The Labour Party candidate was the running mate to Atiku in 2019 Presidential election won by President Muhammadu Buhari and APC.
According to our source: "Peter Obi and his people are planning to align with Atiku in the coming election.
Key officers of Peter Obi's team met yesterday in Abuja. They were analysing Atiku's chances. There is some realization in the Obi camp that they can't win and want to align. They mentioned how North-East will be split, that Sokoto Governor, the Director-General of Atiku's Campaign Council won his own second term election with 200 votes and can't guarantee his state for Atiku the votes from Sokoto. For them it is better to work with Atiku to win instead of dissipating South East votes which Obi can get on Igbo sentiments but will not be anywhere near enough to win the presidential election. At the meeting, they kept saying 'we don't have the numbers to win."
We also learnt also that Obi's team postponed the Labour Party rally in Adamawa State which is Atiku's home state in view of the possible alignment talks between PDP and LP.
On the in-fighting within Obi's camp, our source said Ndi Kato and Aisha Yesufu don't see eye to eye. Aisha Yesufu is an activist who gained national prominence on the back of the Bring Back Our Girls Campaign for Chibok girls kidnapped by Boko Haram in 2014 and now one of Obi's main backers. The two women fell out over issues of money.
"Ndi and Aisha Yesufu are having very bad fight over money and some personal stuffs," our source revealed further.