EXCLUSIVE: Wike, Makinde, other G5 governors to endorse Tinubu in January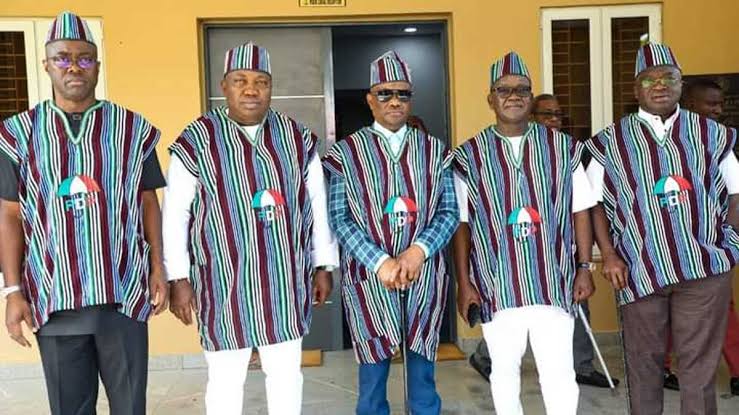 Contrary to some newspaper reports that the G5 governors, led by Nyesom Wike of Rivers State who are opposed to the Peoples Democratic Party (PDP) presidential candidate, Atiku Abubakar, have resolved to back the Labour Party presidential candidate, Peter Obi for the 2023 election, facts have emerged that the governors actually reached an agreement to pitch their tent with Asiwaju Bola Tinubu, the All Progressives Congress (APC) standard-bearer.
Competent sources informed WesternPost that the G5 Governors held a meeting with the APC presidential candidate during the week in London.
At the meeting, they foreclosed working with the former vice president Atiku Abubakar, agreeing to back Tinubu for the election.
It was learnt that Governor Wike and his Oyo State counterpart, Seyi Makinde may lead the way by openly declaring for Asiwaju Tinubu in January, with the other governors in the camp following suit later.
It is, however, feared that Benue State Governor, Samuel Ortom may have a dilemma having more or less thrown his weight behind Labour Party's Obi.
WesternPost, however, gathered that all the five governors are united in their resolve to not work for Atiku.
The governors backed out of working for Atiku after PDP National Chairman, Iyorchia Ayu failed to resign. The governors insisted that the North cannot produce the national chairman and the presidential candidate.
This was after Atiku had defeated Wike and others in the party's presidential primary election in May.
They have since rebuffed every entreaties from the Atiku camp, saying they will only work for him if Ayu steps down.
The G5 governors have held various meetings with different camps, including Tinubu and Obi earlier in the year.
The meeting with Obi was facilitated by former President Olusegun Obasanjo who is known to be a major backer of the Labour Party presidential candidate.
Signs however started showing the G5 governors might support Tinubu when Makinde sent his Deputy, Adebayo Lawal to openly endorse Tinubu during the APC candidate's meeting with Afenifere leader Reuben Fasoranti in October.
"Since he (Makinde) has become a governor, he hasn't played with issues concerning Yorubaland," Lawal said.
"There is no time Baba (Fasoranti) calls him that he doesn't answer. Whatever they are doing, whether it's under Afenifere or another group, governor Seyi Makinde has always been doing.
"Now, we are not of the same party, but we are connected by race. For this reason, the message he (Makinde) sent is that in Yorubaland, whatever you do, he is in support of it," had said.