Explosion kills four in Kogi few hours before Buhari embarks on state visit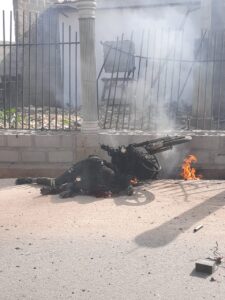 An explosion on Thursday killed four persons in Okene, Kogi State, few hours before President Muhammadu Buhari embarked on a state visit to the state.
The cause of the explosion could not be ascertained as at time of going to press as some residents said it was caused by improvised explosive device, while others said it was a faulty electricity transformer that exploded.
The explosion occurred at about 8:30 am near the palace of Ohinoyi of Ebiraland, Alhaji Ado Ibrahim.
Both the dead and injured victims of the explosion are believed to be security men.
It came amid the tight security mounted in and around Okene ahead of President Buhari's visit.
All vehicular movements from South West and South -South through Okene to other parts of Nigeria were blocked since about 6:30am, while residents were also restricted to their residential areas.
The state government had earlier declared today as public holiday to give the President a rousing welcome to the state.
While in the state, the president is scheduled to inaugurate six projects, two of which are located in Okene and its environ.
Eye witnesses said the explosion came from a vehicle driven by a man.
The state police command is yet to react to the development.
However, the incident did not in any way affect the official visit of the President to the town as he arrived in Okene in a chopper almost one hour after the explosion.