Extortion, confusion trail N800 levy on commercial bus drivers in Lagos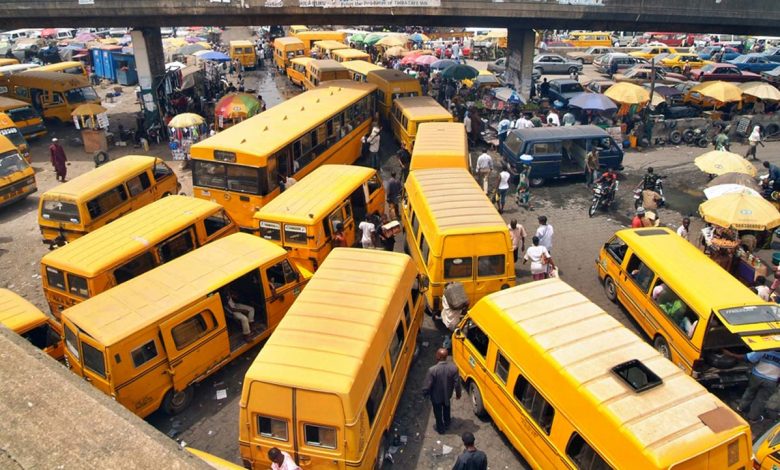 Wasiu is a commercial bus driver plying the Oshodi to Sango route. Since the Lagos State Government introduced the N800 daily levy on commercial transporters February 1, waking up to go to work has become a burden.
Wasiu, before the introduction of the levy, took his job very seriously because that is where he earned income to take care of his family. He however now goes to work, every day, in bitterness. The menace of daily extortion by touts deployed by the National Union of Road Transport Workers (NURTW) to collect money every day from drivers has now been compounded by the N800 harmonised fee by the state government.
The story of Wasiu mirrors the frustration of commercial bus drivers in Lagos. When the state government introduced the daily level of N800, the intention was to generate more revenue to fund more development. The bus drivers do not have problem with contributing their own quota to the development of the state since its where they earn their daily bread. Their worry is the inability of the government to protect them from touts and other extra-governmental actors being deployed by NURTW and local governments to still collect other fees from them outside what is supposed to be a single-point harmonised level of N800 per day.
When WESTERN POST correspondent recently took a trip around Lagos to see the level of compliance with the new harmonised fee system, we found out that arbitrariness and extortion still go on unchecked.
While inside Wasiu's bus from Oshodi to Sango, he lamented the stress of having to pay money at different points.
"The money they collect from us is too much, how do they want us to survive. In Oshodi, I pay N2,500 daily, in Iyana Ipaja N1,800 daily. Then in Kola, before toll gate in Sango, they collect money from me. Lagos State government said they have harmonised the N800 daily fare but the local governments around Kola still collect money from me everyday. And at Oshodi, when we pay for the N800, they don't give us ticket. Sometimes I don't know why we are paying this money, it is always very stressful," Wasiu said.
When Wasiu was asked if he knew that the N800 harmonised ticket entitles him to a tax card , he said he didn't know anything about it, as he was not told.
Emeka's story is not materially different from that of Wasiu. Emeka operates on the Iyana Ipaja-Yaba route. He also shared his own frustration with WESTERN POST.
"They collect the N800for the harmonised ticket at Iyana Ipaja. Before, they used to give us ticket but now they don't give us again, yet they collect the money. Also when we want to load here, they collect N2,000 from me. My sister, what can I do," Emeka said.
When asked if he knew that the N800 harmonised ticket would enable him have a tax card in Lagos, he responded, "We were told that at Iyana Ipaja, but they have not given it to us, and we don't know how they want to do it."
At Obalende and Ojuelegba bus parks, the drivers claimed that the N800 harmonised ticket was being given to them, but most of them are not aware that the ticket entitles them to a tax card that would be given by the government.
Following the experiences shared with WESTERN POST by the drivers, our correspondent called the Special Adviser to the Governor on Transportation, Mr. Oluwatoyin Fayinka, to seek clarification on level of compliance and to know if the government had a system in place to deal with the drivers' discontent.
Speaking on the situation, Mr. Fayinka explained that government had no illusion that everything will be seamless from day one. He, however, called on any bus driver who paid and was not given appropriate ticket to come to his office.
The Special Adviser stated that if the bus drivers are not well informed about the tax clearance the harmonised ticket should entitle them to, journalists have a duty to also help government to educate and enlighten them and the general public on government policies and programmes.
Fayinka also spoke on deviant local governments who still issue tickets to collect money from bus drivers after the N800 daily ticket was introduced.
"We have resolved the matter and they have stopped issuing out ticket to bus drivers. The governor must not hear about that, they know that too well, so they have stopped issuing out tickets to bus drivers," he said.