Fantastic voyage, By Sam Omatseye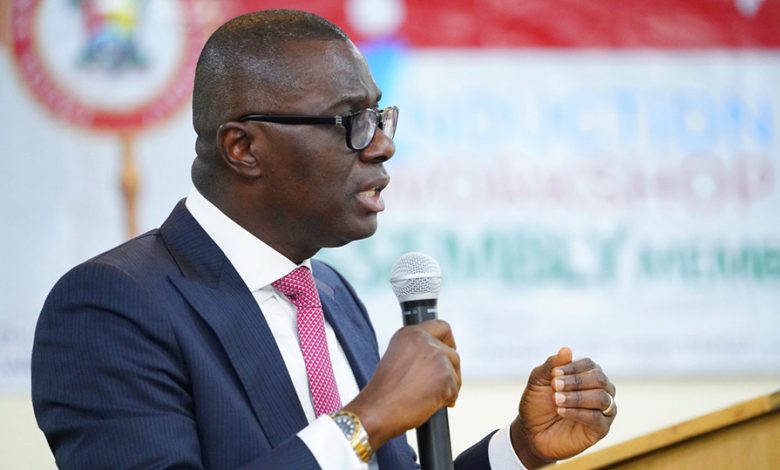 It has been long coming. Like the man awaiting a beloved one, we have stood at the train station, waiting for the hoot. We had hope, but no help. From year to year, decade to decade and a century dovetailing into the next, the weary beloved knows the journey is not an easy one.
It started with a promise, and how lofty it was, how cheery. It was a hope, but it was a grandeur, a train slashing through the city. The man who etched the hope became known as a sort of prophet, an engineer, a fantasist. As prophet, he had no canon. As an engineer, he was a glorious impostor. As a fantasist, he dreamed, as most dreamers – alone. We all dream alone.
But he was none of these. He wore a faith cap, but he had no noted pedigree of piety. He did not have any degree as certificates go. But he certified himself in hearts across the state and city. He was just a workman and warrior with the pen and news. Now he was also news as governor and performer. The theatre was on the streets, in schools, on the road, in hearts and in his stamp of hope.
We called him Jakande or LKJ, a journalist whose trademark project would generate a journal of a journey on rail tracks. He was a man of spare means. His office spare. His car spare. His pocket spare. But his greed for the future was anything but spare. Of course, he never spared his Tom Tom that made his face bustle around the jaw as he licked and chewed. When he died, no one mentioned diabetes, and even if its sugar worked out any malice, it was of little effect on a man who departed the earthly train in his ninth decade.
He learned his greed from another man of niggardly disposition. Many have come to call him spare, too. He, too, called Awo, had a greed for the future. If LKJ was no prophet, he was only an engineer of human souls. He never had a head for design. But he was shaping and mapping a fantasy, making a huge, locomotive toy for adults. He was an engineer because he was first a fantasist. He was an idealist by that definition. As D.H. Thoreau noted: "idealist nations make the most machines." It begins with the toy. Toys excite children. Toys excite adults, too. Big toys. You must think like a child to make toys. To make a computer, think of video games. Now war games. The computer came to birth in the chills of the Cold War. Like the Wright Brothers, you must think about flying high to meet the angels. As the French poet Rimbaud writes, "genius is the recovery of childhood at will." Hence Jesus said all little children should come to him, and that all should be like children. The United States is often likened to a juvenile culture. President Ronald Regan, at 70, habitually posed like a boy as though a cowboy in a movie. Trump has exemplified the boy adult, a farcical version of a Lincoln, who also would not underplay the power of the séance. His wife, Mary Todd, always thought her dead son was alive each time he visited the séance.
But the same culture gave us the marvels of today. So, the fantasist is good. Years after LKJ, the fantasy haunted us. Buhari stanched the dream and recanted. Repentance is about acts, not mere rhetorical confession. After stopping the dream in Lagos, he did penance on a national scale by giving trains in Lagos-Abeokuta-Ibadan and others. Lagos, the springtide of development weighed heavy on Buhari's conscience. Jakande haunted Buhari to compensate as president.
But it is not just him. When Tinubu came on board, he revived the project. When some doubted it, the BOS of Lagos, Babajide Sanwo-Olu, revived history in a public video of truth against malicious naysayers. Tinubu, a governor and younger, dreamed the same as Jakande but a different one, too. He came to modernise and re-draft. Babatunde Fashola (SAN), now the Trojan of works, became an "actualiser" and laid the first earth, "babying" the fantasy. One by one, block built on block, but he could not conquer time. No one can. Others had to continue. Progress is a relay.
The project seemed to suffer another abortive act in a successor. But as Shakespeare said, truth sunk into the earth shall spring forth again. Enter the BOS. Enter a new belief. He promised but he was not going to torture us with hope. Fantasy chides the believer. In between hope and reality, humans have invented lies, cruelty and deaths. The promise of paradise in all religions has forced humans to erect civilisations and savagery. Before it becomes true, prophets lie, followers maim and torture, death camps are instituted, worship houses duel against each other, families divide, lovers elope, lovers abandon love, countries go to war, cults fume with daggers, fanatics overtake the fantasy with sullen stares and apocalyptic doctrines that compromise the purity of the faith, merchants profit, vandals plunder, patriarchs reign. Sometimes, hope is a curse, hence Apostle Paul says charity is better than hope.
It is that charity, that love that transforms hope into a blessing, that the BOS of Lagos has done with the train. Both blue and red lines will make us move. The city will move again. The trains will chortle as the people shuttle.
It will bisect the city, and dissect it. It is a progress in a city signposted by molues and area boys. That generation is passing before our eyes. We have BRT, and that turns the agbero into an anachronism. But gradually. In his play, The Road, Soyinka spoofs that tribe of men who con the people and profits on road tragedies. In another voice, Soyinka prays for the traveller while asking him "To set forth at dawn." The train, blue and red, is a new dawn that LKJ fantasised and that Tinubu re-dreamed and set the template for realisation. As Nixon wrote in his memoirs, a dream unrealised is "like a baby that is stillborn."
But Soyinka wishes the traveller "marvels of a holy hour." Soyinka does not trust roads very much as we see in his works, whether in Death and King's Horseman or Madmen and Specialists or even in his novel, The Interpreters. In his The Road, the novelist Cormac McCarthy peers glumly at apocalypse. Jack Kerouac portrays a soulless journey through America.
Trains are a different kind of journey. They form their own visions, their arbitrary pathways through human crowds and alleys. America was redrawn by the rail. It reconnected a continent as a nation. It set the pace for its first burst of prosperity. This essayist will visit the other milestones of the BOS soon.
But it is the work of dedication, a fury of fulfilment. The people know that hope is good when there is no doubt. You cannot argue against a monument. No one can quibble over it, even though humans want to deny the evidence of their eyes. Man was made just, says the scriptures, but he has made many inventions.
The invention of the train, its hooting and whirring across the state awaits the invention of a naysayer. We shall see if they deny the comfort of their seats, the landscape before their eyes and the ears that respond as the coaches chug along and rumble by.
Source: First published in The Nation Newspaper