Fatal accident claims one person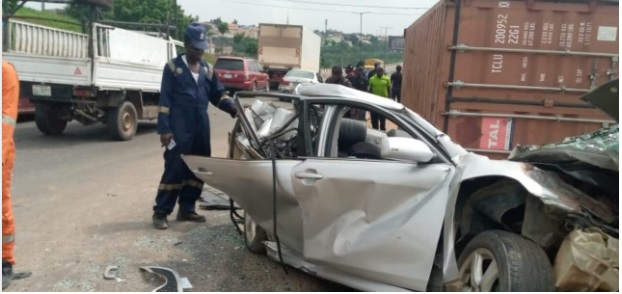 A fatal motor accident that occurred along Abeokuta-Lagos expressway yesterday has claimed the life of one person by the name Mr. Robert Irumba.
An eyewitness, Mr. Seun Thomas said that a 1/40 container truck collided with a Vauxhall car at the point where they both are going through a U-turn, leaving Irumba dead instantly.
Sources at the scene said that the truck driver was overspeeding while driving through the bend and could not control the vehicle when the collision happened, this is the severity of the accident.
A motorist who spoke to our correspondent explained that the accident was terrible and that the death of Mr Irumba was a grievously disappointing death. He implored other road users to stick to cautious and safe driving.
We recalled that in the past few weeks the location of this accident had witnessed about eight persons died as a result of motor accident
The authorities who attended the accident confirmed this accident as a serious one and they appeal to all media house as well as the members of the public to respect the privacy of the deceased and his family in this very difficult moment.