FCMB Group lists N20.69bn bond on FMDQ Exchange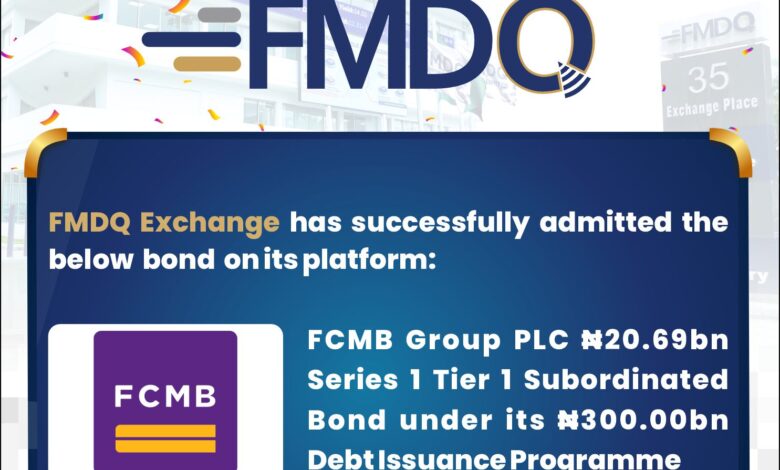 FMDQ Securities Exchange Limited (FMDQ Exchange) has approved the listing of the FCMB Group Plc's N20.69 billion Series 1 Fixed Rate Resettable NC5.25 Additional Tier 1 Subordinated Bond under its N300 billion Debt Issuance Programme on its platform.
Speaking on the successful bond issuance, Group Chief Executive, FCMB Group PLC, Mr. Ladi Balogun, in a statement said: "FCMB Group is grateful to our investors, advisers and regulators (particularly the Securities and Exchange Commission (SEC) and the Central Bank of Nigeria (CBN) for their support on the maiden issuance under our N300 billion Programme.
"The innovative structure of a perpetual, income yielding bond that qualifies as Tier 1 capital – a first of its kind in the domestic capital markets – achieves three objectives for investors: it is non-dilutive for existing shareholders; creates capacity for improved earnings and dividends per share; and provides an attractive income stream to investors.
"We are also pleased to support our largest banking subsidiary towards the attainment of its growth, risk management and strategic objectives with this investment."
Furthermore, the Lead Sponsor of the bond, Chapel Hill Denham Advisory Limited, through its Managing Director, Mr. Lanre Buluro said: "Chapel Hill Denham Advisory Limited is pleased to have acted as Financial Adviser to FCMB Group Plc on the issuance of the N20.69 billon Perpetual Fixed Rate Resettable NC5.25 Additional Tier 1 Subordinated Bond.
"This novel transaction structure provides a unique opportunity for banks and other domestic capital market participants to access financing from the investing public with more favourable terms and conditions than a conventional bond issuance, while meeting investors' return requirements.
"Consequently, we would like to thank FCMB Group plc, the financial and capital market regulators, and the investor community for their support in ensuring the successful capital raise."
FMDQ Exchange will continue to work collaboratively with market stakeholders to align the nation's debt markets to international standards, and will, through the promotion of product and service innovation and championing of key market development initiatives, take commendable steps to ensure that growth and development opportunities abound for the markets under its purview.