FG flags off dry season irrigated farming to boost food security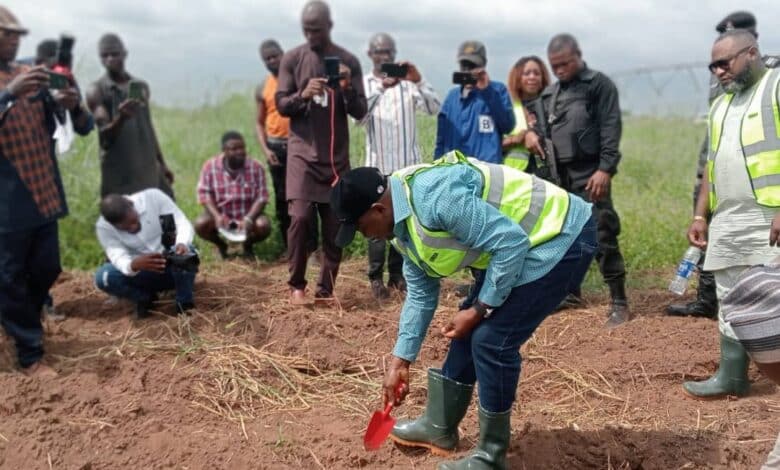 The Federal Government has launched the 2023 Dry Season Irrigated Farming initiative through the Benin Owena River Basin Development Authority.
The Federal Ministry of Water Resources and Sanitation disclosed this on Friday in a statement issued by Funmi Imuetinyan, the ministry's Director Press and PR, saying the initiative was in line with President Bola Tinubu's commitment to address food security in Nigeria.
During his visit to the River Basin Development Authority in Benin City on Wednesday, the minister, Joseph Utsev, also revealed that, as part of the ongoing assessment tour of Agencies and projects under the Federal Ministry of Water Resources and Sanitation, the Ministry is taking action to fulfil the President's directive to cultivate 500,000 hectares of irrigable lands for increased productivity.
In addition to requesting that all River Basin Development Authorities (RBDAs) around the nation begin irrigation-based dry season farming in 2023, Utsev also encouraged States and Communities to set aside land for agriculture in order to assist this important project.
He presented the 2021–2022 Hydrological Year Books and emphasised the significance of their roles in infrastructure and water resources planning, design, and construction. He went on to say that the books will help with environmental sustainability and infrastructure development for policy makers, researchers, and other stakeholders involved in water resources.
During the familiarisation visit, the Minister of Water and Sanitation also made a suggestion that the recently opened farm road will improve communication between the public and the government by facilitating the smooth movement of people and commodities.
The Benin Owena River Basin Development Authority's Managing Director, Ahmed Saliu, stated in his remarks that the River Basin has continued to be active and responsive to the communities in her catchment states by providing a variety of projects, such as roads and rural infrastructure development, irrigated farms (Songhai Model), water schemes, dams, and youth empowerment programmes.
He further disclosed that the Benin Owena River Basin Development Authority is at the forefront of setting up a network of Hydro- meteorological stations in all strategic locations within the catchment States of the River Basin. He stressed that the Hydrological and meteorological yearbooks will serve consultants and all professionals who rely on hydro-met data.
Mary Ononuju, the Executive Director of Agricultural Services of the River Basin, emphasized the Authority's commitment to support President Bola Ahmed Tinubu's food security Agenda by embarking on dry season irrigated farming that will ensure more production and crop diversification.
She posited that the initiative signifies an essential step towards ensuring food security in Nigeria and demonstrates the dedication of the Federal Ministry of Water Resources and Sanitation to achieve this essential goal.
The highlight of the flag-off ceremony included the planting of seedlings by the Honourable Minister, the Managing Director of the River Basin Development Authority, the Director River Basin Operations and Inspectorate, AJ Ochigbo and the Enogie of Oghobaghase, Ileruwa Akenzua