FG, states may not be able to pay salaries beyond June without subsidy removal, Obaseki warns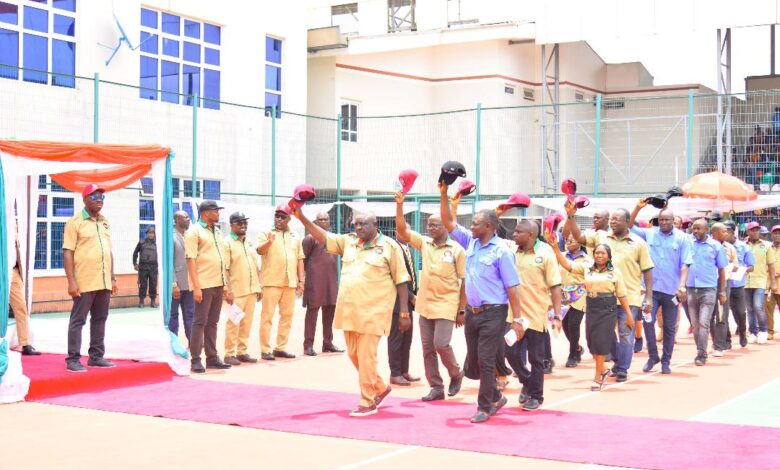 Edo State Governor, Mr. Godwin Obaseki, on Monday, said the Federal Government may not be able to pay workers' salaries beyond June 2023 without resorting to massively printing money or removing fuel subsidy.
Obaseki disclosed this while delivering his address during this year's May Day celebration with the theme; "Workers' rights and socio-economic justice," held at the Samuel Ogbemudia Stadium, in Benin City.
The governor, who reassured that his government will sustain reforms and projects to improve the welfare of workers and ensure better livelihoods for Edo people, urged the workers in the country to shift from the tradition of reacting when policies that affect them have already been made but take charge and ensure full transparency and accountability of government's policies and programmes.
Obaseki said: "It would be a miracle for the federal government and state governments to pay salaries beyond June this year without resorting to massively printing money or removing fuel subsidy. Either of these decisions will bring more hardship and pain to Nigerians, particularly workers.
"We must all make sure that the burden and pain of these measures, which must be taken, are not carried by workers alone. Workers must now rise and ensure that they champion any discussion on subsidy removal.
"You must shift from the tradition of reacting when these policies have been made but insist that you take charge and ensure full transparency and disclosure. If we are all undertaking a reform, then the benefits and pains that will come out of the reforms must be mutually shared by all Nigerians, not just the downtrodden."
Reaffirming his government's commitment to the welfare of workers in the state, Obaseki said: "I am proud to say that Edo workers are currently the best-paid workers in Nigeria. When we announced the increment of the minimum wage to N40,000 at this venue last year, I expected that the Federal Government and other state governments would follow suit immediately but I am surprised that it has taken them one year already.
"My promise to Edo workers here today is that the day the federal government is able to pay its new minimum wage and hand over a cheque to any federal worker, that day, we will match the federal government and do the same for state workers.
"As your governor, I will ensure that workers are fairly treated so that your take-home pay can really take you home. Our government has kept faith with prompt and regular payment of staff salaries and retirees' benefits in the State in the last six years.
"As a tradition, salaries are paid latest on the 26th day of every month and for any holiday celebrations, our workers are paid before the celebration so that they have money to celebrate.
"We currently do not owe arrears of promotion in Edo State because I have approved the promotion of all staff for 2022 which I believe will boost the morale of staff and the performance of our workers."
He hailed the workers' contributions to the growth and development of the state.
Chairman of Edo State chapter of the Nigeria Labour Congress, Chief Odion Olaiye hailed the governor for prioritizing the welfare of the workers, commending his developmental strides across all sectors of the state's economy.
Also, the acting Chairman of Trade Union Congress (TUC), Edo State, Charles Momoh thanked the governor for the Edo Health Insurance Scheme, noting that Edo workers are enjoying affordable and quality healthcare services under this administration.