First lady canvasses support for elders, widows in Imo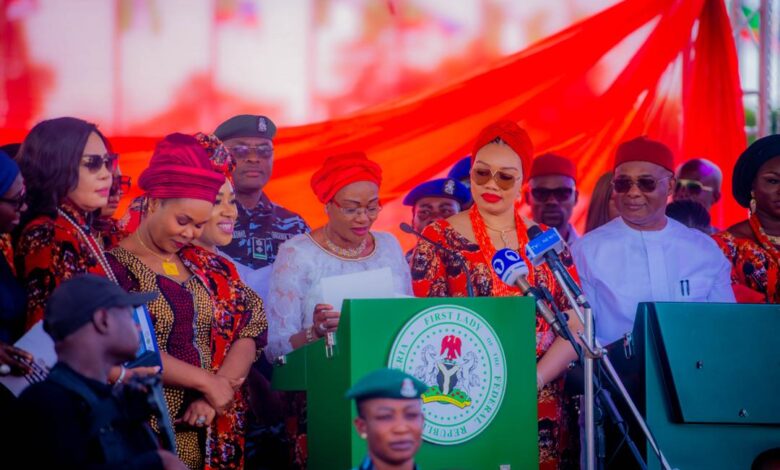 The First Lady Senator Oluremi Tinubu has participated at the 2023 Imo Women August Meeting.
At the event which was well attended by women from all over Imo state, Senator Oluremi Tinubu lauded the efforts of women in shaping the society, saying they must not relent in giving directions to younger women.
She emphasized the need to acknowledge the accomplishments of younger women which are undoubtedly inspiring and the fact that the role the elderly women play in shaping society cannot be done away with.
"At this year's celebration which has as its theme, Women Supporting Each Other,Making Things Happen, we must take cognizance of the experiences, struggles, and triumphs of our older women, which have paved the way for the progress we enjoy today.
"The support we are advocating is what we have come to present today through the Renewed Hope Initiative's RHI Social Investment Agenda by celebrating the widows at this event."
The First Lady assured of the Federal Government's commitment to addressing the various challenges confronting the Nation, noting that the aim of President Bola Tinubu is to make Nigerian a more prosperous nation that everyone would be proud to belong.
Mrs Tinubu used the opportunity of the occasion to canvass for support for Gov Hope Uzodinma's re-election bid come November 2023.
She said if he is re-elected, the people of Imo state are in for more transformative governance and a greater lease of life.
In his remarks at the event, Imo State Governor Hope Uzodinma appreciated all the Imo women with assurances of a greater deal even as he has chosen a female as his running mate in the forthcoming gubernatorial election in the state.
The wife of the governor Barr Chioma Uzodinma thanked the First Lady for doing the women of Imo proud by being the Special Guest of Honor at the Annual Women August meeting.
The first lady went on to give support to 500 elderly women and widows with bags of rice, bags of semo, fabrics and N50,000 each.
There was the march past by various women groups and cultural displays.