First lady launches N422. 75m support for 1,709 widows, orphans of fallen heroes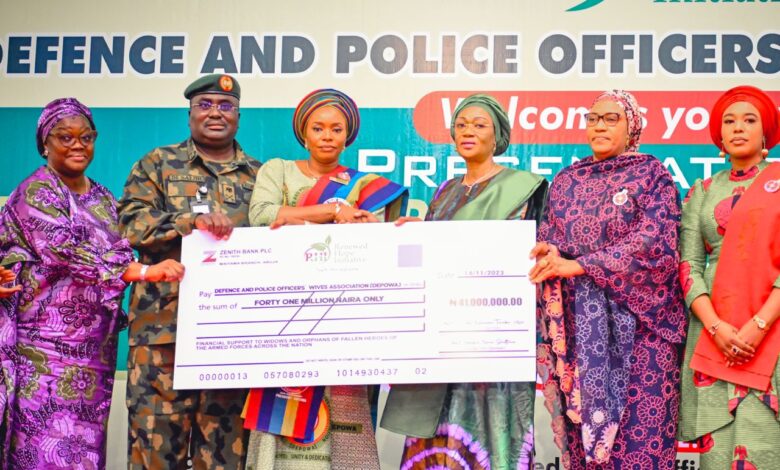 A total of 1,709 widows and orphans of fallen heroes of the Nigerian Armed Forces have received financial support of 250,000 Naira each courtesy of the Renewed Hope Initiative, RHI, an initiative of Nigeria's First Lady, Senator Oluremi Tinubu.
The support which is a total sum of Four hundred and twenty seven million, seven hundred and fifty thousand Naira (427,750,000), is part of the social investment program of the Renewed Hope Initiative, RHI, designed to advance the welfare of vulnerable groups in the country.
Presenting the relief package to the beneficiaries drawn from across the country, the First Lady says as wives of gallant soldiers, their path is not an easy one, filled with uncertainties.
She emphasized that the sacrifices of their breadwinners who have paid the ultimate price in the defence of the country must be rewarded with provision of adequate welfare.
While expressing hope that the intervention will offer some measure of relief to the beneficiaries, the First Lady, Senator Oluremi Tinubu called on other stakeholders to spare a thought for dependants of fallen soldiers.
"Under the Social Investment Program of the Renewed Hope Initiative, RHI, we are here to empower 1,709 widows with the sum of two hundred and fifty thousand naira (N250,000) each. This will enable you to recapitalize an existing business or start a business of your choice to enable you care for your families.We recognize that widows are not victims; they are survivors. You have shown extraordinary courage in the face of adversity, and we are here to offer a helping hand as you chart a new path forward.Some of you have been widows for some time while some of you have just been widowed and we hope that the older widows will give emotional support to the younger ones."
In a goodwill message, Chief of Defence Staff, General Christopher Musa appreciated the First Lady and the Renewed Hope Initiative, RHI for the kind and thoughtful gesture, which he says shows that the welfare of widows is a priority for her.
Represented by Major-General Danladi Salisu, the CDS noted that the financial support has brought renewed hope to the families of fallen heroes, and will consequently boost the morale of serving members of the Armed Forces.
President, Defence and Police Officers Wives Association and Wife of the Chief of Defence Staff, Oghogho Musa who received the donation on behalf of beneficiaries applauded the intervention, describing it as a much-needed relief for the beneficiaries.
Beeneficiaries were drawn from the Nigeria Army Officers Wives Association, NAOWA, the Nigerian Navy Officers Wives Association, NOWA, the Nigerian Navy Officers Wives Association, NAFOWA, the Police Officers Wives Association, POWA and the Defence Officers Wives association, DEPOWA.