Fish sellers storm Ogun governor's office, lament 100% price hike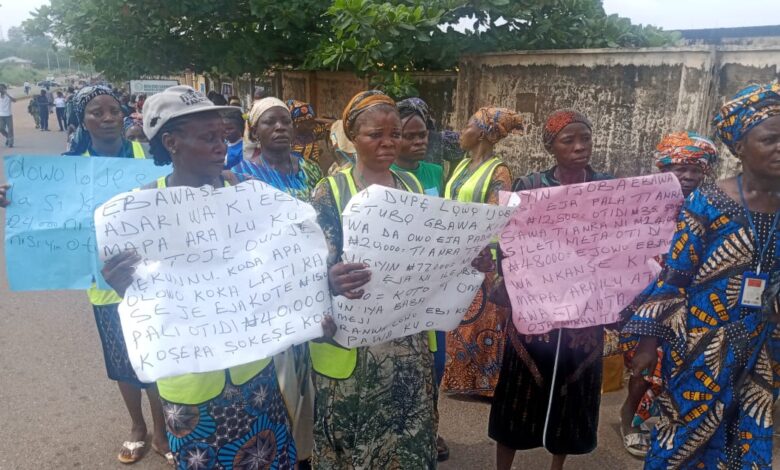 By Kolawole Olayinka, Abeokuta
Barely a week after fish sellers in Sagamu protested over a hike in fish prices, the fish sellers on Tuesday stormed the governor's office in Abeokuta, to register their displeasure over a 100 percent hike in the prices of fish.
The protesters, under the aegis of the fish and SeafoodSellers Association of Nigeria, were armed with placards with different inscriptions, chanting anti-government songs to register their frustration over the development.
Speaking to newsmen, the state chairman of the association, Owolabi Onajobi bemoaned the ceaseless hike in the prices of fish, noting that it has forced many of his members out of business.
He said, "Skyrocketing prices of fish have adversely affected our business as customers blame us for the arbitrary increase".
He called on the government to immediately take action to alleviate the economic hardship caused by the increasing prices of commodities.
He said "Many of us are shutting down our businesses because we cannot continue to run at a loss. For instance, a carton of Titus we were buying for N45,000 before is now N87,000. We cannot continue like that, this is why we have come to the governor to tell him our plight.
"The government should please look into this and save our business from imminent collapse. We are operating under huge debt, this hardship is too much."
Responding on behalf of the state government, Commissioner for Women Affairs and Social Welfare, Adijat Adeleye appealed to the traders to be more patient with the government, saying the hike in fish is not peculiar to Ogun state alone.
Adeleye said, "To my understanding, I think this is not just happening in Ogun state, fish sellers from other states are also complaining about the price increase.
"The issue of fish is not just about Ogun state, it is something that cuts across the nation, there has to be a holistic approach to the problem."