FMDQ Exchange admits CardinalStone Partners' N20bn CP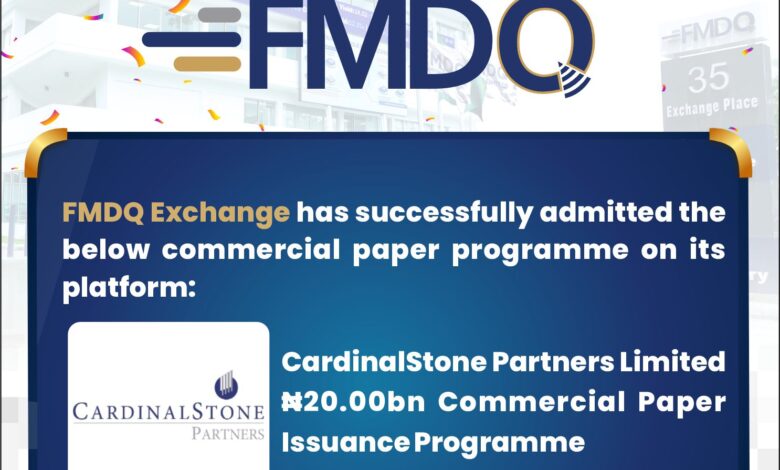 FMDQ Securities Exchange Limited, has approved the registration of CardinalStone Partners Limited's N20 billion Commercial Paper (CP) Programme on the Exchange platform.
CardinalStone Partners Limited is a multi-asset investment management firm that provides services encompassing financial advisory, asset management, securities trading, share registration, and consumer finance on a retail and institutional scale.
The CP Programme, sponsored by FBNQuest Merchant Bank Limited (Lead Sponsor); Emerging Africa Capital Advisory Limited, CardinalStone Partners Limited, FCMB Capital Markets Limited and United Capital PLC (Co-Sponsors) – all Registration Members (Quotations) of the Exchange, allows the Issuer to efficiently raise short-term finance from the Nigerian debt markets, through CP issues, within the CP Programme limit.
The successive and successful admittance of the securities listed and quoted so far in the year 2023, following the due approvals obtained, attests to the efficient and uniquely tailored listing and quotation services offered by FMDQ Exchange – Nigeria's largest securities exchange by market turnover of over N169 trillion over the last nine years.