FMDQ Exchange admits Hartleys Supermarket & Store CP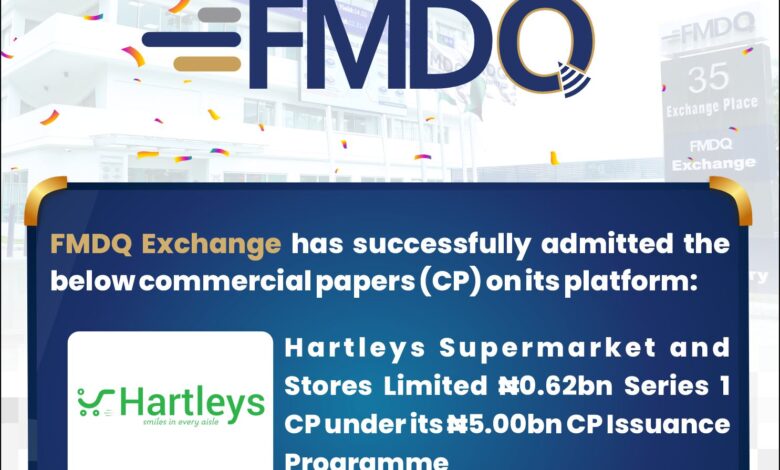 FMDQ Securities Exchange Limited on Monday approved the registration of the Hartleys Supermarket & Stores Limited's N5billion Commercial Paper (CP) Programme and quotation of the N0.62 billion Series 1 CP under the N5 billion CP Issuance Programme on its platform.
Hartleys Supermarket & Store Limited is a world-class brand that is driven by the commitment to deliver the ultimate shopping experience to its customers by offering a wide variety of the freshest and highest quality products at competitive prices, through exceptional customer service, across its various store locations.
The quotation of the Series 1 CP, sponsored by United Capital PLC – a Registration Member (Quotations) of FMDQ Exchange, strategically positions the Issuer to raise finance for its general corporate purposes from the Nigerian debt markets.
Through the quotation, the Issuer will not only benefit from the Exchange's robust platform but also gain access to a wide range of qualified institutional investors.
The registration of the Hartleys Supermarket & Stores Limited CP Programme and the subsequent quotation of its Series 1 CP, validates its conscious drive to support the goals of corporate businesses and to deepen the Nigerian debt markets by steadfastly availing its efficient platform for the registration, listing and quotation of debt securities.
As an Exchange positioned to bring about revolutionary changes in the Nigerian debt markets, FMDQ Exchange will continue to provide a dynamic and innovative platform for capital formation, offering institutions the support required to positively impact their sectors and the overall economy.