FMDQ Exchange commemorates quotation of Greenwich Merchant Bank's N12.20bn CPs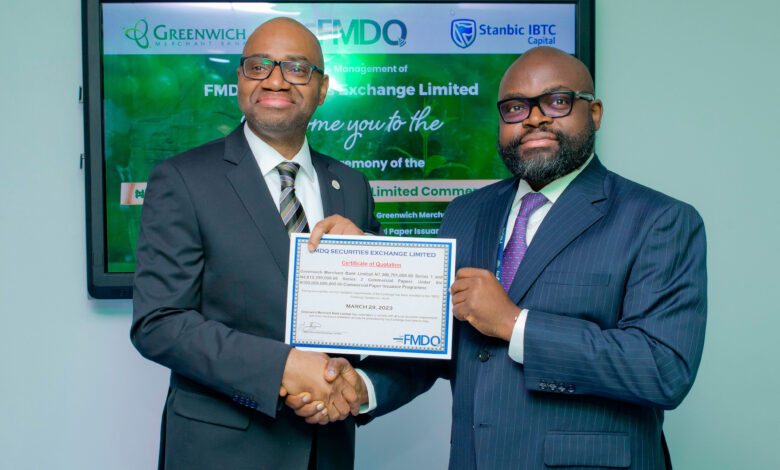 FMDQ Securities Exchange Limited (FMDQ Exchange) on Monday announced the approval for the quotation of the Greenwich Merchant Bank Limited's N12.20 billion Series 1 and Series 2 Commercial Papers (CPs) under its N100 billion CP Issuance Programme on its platform.
In commemorating the event, FMDQ Exchange held a Quotation Ceremony at its offices in April. Present to celebrate the successful quotation of the CPs were the Issuer, Greenwich Merchant Bank, represented by its Group Managing Director/Chief Executive Officer, Mr. Bayo Rotimi and other representatives of Greenwich Merchant Bank.
Also, the Sponsors of the CPs – Stanbic IBTC Capital Limited (Lead Sponsor), Afrinvest Capital Limited, ARM Securities Limited, Greenwich Merchant Bank Limited and Rand Merchant Bank Nigeria Limited (Co-Sponsors) – all Registration Member (Quotations) of FMDQ Exchange, as well as other parties to the issue, were present at the ceremony.
 Welcoming guests to the Ceremony, Ms. Tumi Sekoni, Managing Director, FMDQ Exchange, represented by Ms. Jumoke Olaniyan, Senior Vice President, Business Development Division, FMDQ Exchange, congratulated the Issuer and other parties for the remarkable job well done towards ensuring the success of the issuances.
Ms. Olaniyan further noted that with the growing interest of corporate entities in the CP market to finance short-term funding and liquidity requirements through the debt markets, FMDQ Exchange will continue to maintain a dependable and resilient platform for the quotation of CPs, thereby facilitating uninterrupted access to capital for businesses.
Mr. Rotimi while delivering his address, said: "Greenwich Merchant Bank's maiden CP Issuance was 22.00% oversubscribed with orders of over N12.20 billion, confirming the strength of our value proposition to the Nigerian economy. We remain committed to delivering innovative and cutting-edge financial solutions to discerning issuers and investors towards creating viable alternatives and deepening the Nigerian capital markets."
Delivering the sponsor's remarks, the Executive Director, Stanbic IBTC Capital Limited, Mrs. Oyinda Akinyemi, said: "Stanbic IBTC Capital is pleased to have acted as Lead Arranger/Issuing and Paying Agent to the debut CP Issuances by Greenwich Merchant Bank.
"As the leading investment banking franchise in Nigeria, we pride ourselves in bringing new Issuers to the debt markets. The remarkable success of this transaction is reflected in the strong participation from a diverse group of investors.
"The quotation of these CPs on FMDQ Exchange will aid transparency and liquidity, further deepening the domestic debt markets. We thank the Board and Management of Greenwich Merchant Bank for trusting the team of professional advisers to deliver a successful transaction."
Greenwich Merchant Bank Limited is a Nigerian financial institution that provides a wide array of banking and financial services to corporate organisations, high-net-worth individuals, and institutional clients.