Former OAU VC Prof Onwumechili dies at 91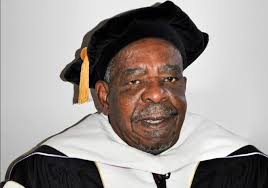 The authorities of Obafemi Awolowo University (OAU), Ile-Ife have announced the death of the fourth substantive Vice Chancellor of the institution, Pro. Cyril Onwumechili.
Prof Onwumechili diedat the age of 91, according to a statement by the Public Relations Officer of the University, Abiodun Olarewaju, on Friday in Ile-Ife.
Olarenwaju stated that the former Vice-Chancellor was a visionary leader, an exceptional academic, and a compassionate individual, who made invaluable contributions to the growth and success of the institution.
Onwumechili was Vice Chancellor of the University from 1979 to 1982.
The PRO said that the renowned Physicist, played a pivotal role in shaping the university's trajectory, steering it towards excellence and upholding its commitment to academic rigor, innovation, and societal impact.
Olarenwaju described the late University helmsman as a detribalised Nigerian and a renowned academic of high repute.
The current Vice-Chancellor of the University, Prof Adebayo Simeon Bamire, said that Onwumechili championed progressive policies, fostered a vibrant academic community, and favoured inclusivity.
He said that late Onwumechili left an indelible mark on the 62-year-old University and the countless lives he touched.
"Under Prof. Onwumechili's leadership, the University experienced remarkable growth and advancement in various fields of study, research, and outreach.
"As he spearheaded strategic initiatives that fostered interdisciplinary collaboration, established partnerships with renowned institutions worldwide, and ensured the university's relevance in an ever-evolving global landscape," he stated.
Prof Bamire further explained that beyond his administrative duties, "Professor Onwumechili was an exceptional scholar, renowned for his groundbreaking research as a Physicist."
He said Onwumechili inspired generations of students and faculty members through his profound knowledge, unwavering dedication, and unrelenting pursuit of academic excellence.
The Vice-Chancellor added: "In fact, Professor Onwumechili was a compassionate mentor, a trusted confidant whose genuine concern for the well-being of staff, students and faculty resonated deeply within the University community, fostering an environment of support, growth and collaboration."
Prof Bamire, therefore, "extends OAU's deepest condolences to Professor Cyril Agodi Onwumechili's family, friends, and loved ones during this difficult time."
Bamire affirmed that the late former VC's legacy will forever be etched in the annals of Obafemi Awolowo University, serving as a guiding light for future generations. The university will be forever grateful for his unwavering commitment and profound impact.
(NAN)