Frank Nweke promises food security in Enugu, says nobody will go to bed without food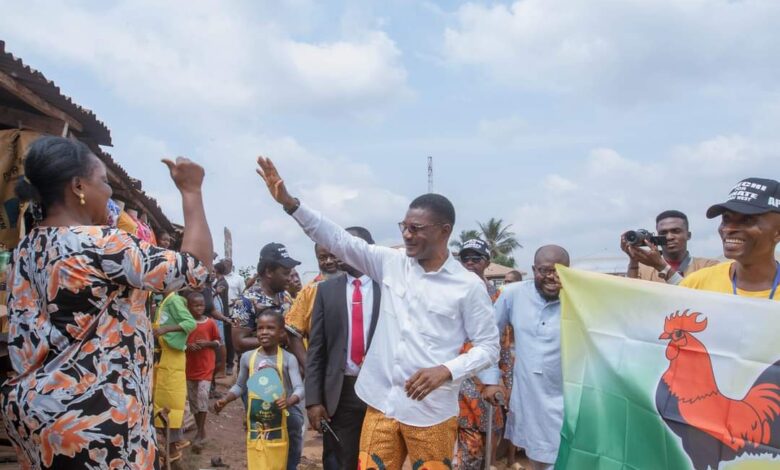 Nigeria's former Minister of Information and governorship candidate of the All Progressives Grand Alliance (APGA) in Enugu State , Frank Nweke Jr has said if elected into office, he will make sure nobody in the state goes hungry.
He made this known when he visited local markets in the state. Nweke Jr said the Nigerian Poverty Map by the Nigerian Bureau of Statistics reports that 63.1% live in abject poverty and this is heartbreaking.
He said: "To that end, we will set up an Enugu Strategic Food Reserve (ESFR) for Enugu State when elected into the office of the governor in 2023, God-willing. The primary aim of this initiative is to provide succour to low-income earners and vulnerable communities with one centre in each senatorial zone.
"With our goal being to ensure that nobody goes hungry, we will have a robust data-driven plan to place families on a food distribution program for specific durations. However, the Enugu Strategic Food Reserve (ESFR) will not be a purely charitable venture. It will be designed as a social enterprise to serve more than one purpose. "
The APGA governorship candidate also said with ESFR, his government will provide a ready market for thousands of farmers, and will purchase and store farm produce from them.
"It will also serve as a needed storage facility to salvage a portion of the estimated 40% of agricultural produce lost to the unavailability of good storage facilities. Working with the agricultural innovation centers that we set up across the six agricultural zones and leveraging agricultural co-operatives, we will ensure profitability to our farmers for their improved farm yields.
"During the rainy and festive seasons that are notorious for price hikes, we will use the ESFR to moderate food prices by strategically releasing stored grains and other key food items into the market and selling them at affordable rates to indigent communities. This will be done bearing in mind the need for profitability for traders as well.
"The creation of a food reserve that is safe and has the capacity to serve our goals will require the involvement of experts, good management and sizeable funding. But with clarity of purpose, transparency, the right stakeholder engagement and the right contractors, it is achievable." Nweke Jr said
He promised to pursue a holistic economic strategy to significantly improve the quality of life of residents in Enugu.