God orchestrates my rest says Oyetola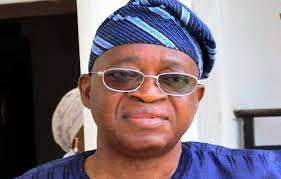 By Deborah Oladejo, Osogbo
Immediate past governor of Osun State, Mr. Adegboyega Oyetola has said that God intentionally orchestrated his rest for a while.
Oyetola is currently challenging the result of the 16 July governorship election as announced by the Independent National Electoral Commission (INEC) at the Election Petition Tribunal.
The former governor, who travelled out of the country immediately after the inauguration of Governor Ademola Adeleke on November 27, was giving a rousing welcome by members of his party, the All Progressives Congress (APC) at the Tinubu/Shettima Campaign office, Osogbo on Monday.
Speaking at the welcome event, Oyetola said he served Osun wholeheartedly for four years without rest, adding that God knows how he does his plans. 
The former governor who said God told him that he will retrieve his mandate and that the presidential candidate of the party, Asiwaju Bola Tinubu will become Nigeria's President, implored members of the party to work hard for the forthcoming elections, and not be distracted.
His words: "I am very happy to return home, I can see you long to see me because I wanted to enter the state quietly but I am surprised with this rousing welcome. I never tell anybody that I was returning to the state early this morning, I am surprised to be welcomed by this massive crowd, thank you very much. 
"This year will be a great year for us all, the clerics has admonished us that we should not doubt God over our prayers. The promise of God will come to pass.
"God has told me that he will do two things for us this year, we are going to retrieve our mandate and Asiwaju Bola Tinubu will become the president of Nigeria.
"I know that you are scared by what happened but God knows how he does his plans. Everyone has his challenges, I only went to rest, you see I am fresh now.
"I served Osun wholeheartedly for four years without resting and God intentionally orchestrated my rest for a while. I wake up every day, I eat sleep and watch Africa Magic. I have time to receive my children and grandchildren; they were wondering that I could have such time when I was in office. I later went to Umrah with my wife to give thanks to God.
"God made me to govern Osun well. Let our mind be at rest, nobody can scare us off this state. I want to implore us that we should work hard for the forthcoming election, it is very important to us. Continue to hold your meeting, don't be distracted."
Oyetola, however, expressed fear over the huge number of uncollected Permanent Voter Cards (PVCs) in the state.
He urged residents to go and collect their PVCs in order to deliver 1 million votes for Tinubu/shettima in the state.
"Let all the aggrieved members be at peace with each other, our motive must gear towards retrieving our mandate and 2023 general elections," he added.