Governor AbdulRazaq felicitates with Emir of Ilorin on 28th anniversary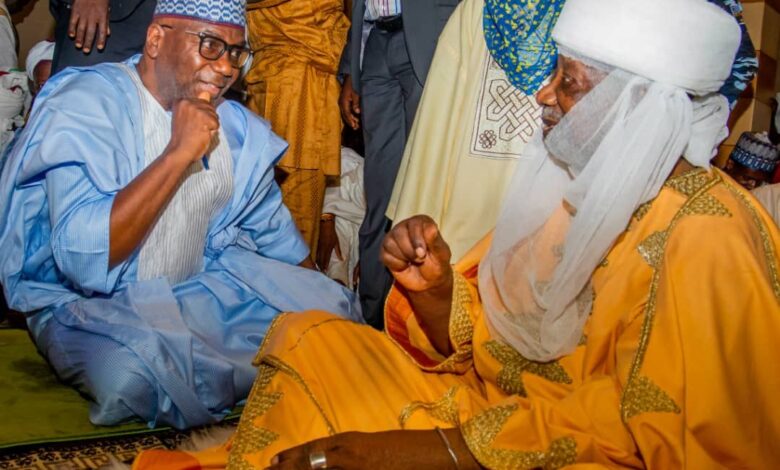 Kwara State Governor, AbdulRahman AbdulRazaq, has sent a congratulatory message to the Emir of Ilorin, Dr. Ibrahim Sulu-Gambari (CFR), on the occasion of his 28th anniversary on the throne.
The Governor, who is also the chairman of the Nigeria Governors' Forum (NGF), described the Emir as a peaceful and diplomatic leader, who has brought positive changes to the Ilorin Emirate and the state as a whole.
In a press statement issued by his Chief Press Secretary, Rafiu Ajakaye, the Governor said he was delighted to join the people of Kwara State, especially the Ilorin Emirate, to celebrate the royal father, who is also the chairman of the Kwara State Council of Chiefs.
"The Governor commends the Emir for being an outstandingly peaceful and diplomatic leader whose credentials as a statesman, lover of culture and tradition, and generosity have rubbed off positively on the people and their wellbeing," the statement read.
The Governor also prayed for the Emir's long life and prosperity, as he continues to guide the people with wisdom and grace.
"He beseeches Allah to give the Emir and chairman of the Kwara State Council of Chiefs good health, steady his feet on the right path, and ease his affairs as he continues to lead the people," the statement added.
The Emir of Ilorin, who is a former Justice of the Court of Appeal, was turbaned on November 11, 1995, following the demise of his father, Alhaji Zulu-Gambari.
He is the 11th Emir of Ilorin and the chairman of the Kwara State Traditional Council.