Governor Eno flags off one project per LG initiative in Eket Senatorial District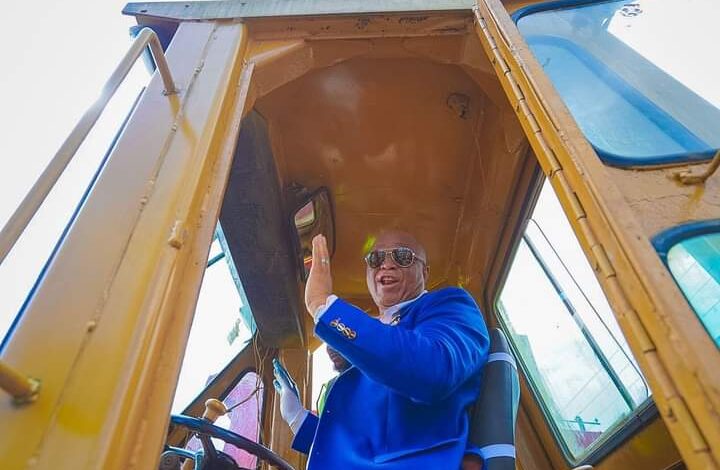 Akwa Ibom State Governor, Umo Eno, has launched the One Project Per Local Government Area initiative with the flag-off of the construction of Model Government Primary School, Idung Offiong in Eket Local Government Area.
The Governor disclosed that the initiative is part of his commitment to rural development, and emphasized that various projects will be replicated across the 31 local government areas of the State.
He noted that the projects under the initiative are based on specific needs and as request by stakeholders of each LGA, adding that each project will be completed within the period of six months for a new round to commence.
According to him, the new school will be equipped with solar power, security gate, perimeter fence, staff quarters and modern learning facilities while also ensuring the provision of school uniforms, books and shoes for the students.
The Governor said the exercise represents the official flag-off of all projects that will be done in Eket Senatorial District, while similar event will be held for Uyo and Ikot Ekpene Senatorial Districts.
"This is the first of the projects that will delivered in all 31 local governments of this state. As part of our rural development drive, we have given the opportunity for communities and local governments to do a needs assessment, align it with what we have and deliver to the people.
"This project was chosen by Eket Local Government stakeholders and they want a school built here. We are here today to use this as our point of contact to flag off all the projects that will be under the initiative in the Eket Senatorial District. When we leave here, we will do Uyo Senatorial District and later, go to Ikot Ekpene.
"We will do 31 projects across the State, and those 31 projects, I believe should be ready in six months, and then we will take on another 31.
"So if you have a school this time, you may have a hospital next time and if you have a hospital next, you may have markets later.That way, we will touch every part of the state with various quality projects.
"We have a budget, and we will stay within that budget. Our father, the Paramount Ruler has talked about a school established in 1905, I think we will look at that school and make sure that we make that school a model school. 1905 is a long time, and we would not like such a legacy school die," he added.
The Governor noted that one of the main reasons he is keen on education is his determination to curb the issue of out- of-school children and ensure that education is made attractive to them with the provisions of basic needs and a conducive learning environment.
He disclosed plans to select some students in the rural areas for an exchange programme in the United Kingdom as part of efforts to expose them and build capacity that will enable them compete with their counterparts across the globe.
Governor Eno used the occasion to call on International Oil companies (IOCs) operating in the state to support government's rural development efforts by adopting any of the model projects and replicating same in their host communities, as part of their corporate social responsibility.
Giving details of the model school, the Commissioner for Special Duties and Ibom Deep Seaport, Dr. Bassey Okon thanked the governor for approving the project, noting that the new school project will include classrooms, clinic, assembly hall, toilets, water facilities, amongst others.
In their goodwill messages, the State Commissioner for Local Government And Chieftaincy Affairs, Frank Archibong, Paramount Ruler of Eket Local Government Area, HRM, Edidem E. C. D Abia and Chairman of Eket Local Government Area, Hon. Akaninyene Tommey appreciated the governor for his commitment to the development of Eket and assured him of their support all through his administration and even beyond.