GTCO reports profit before tax of N74.1bn in  Q1 2023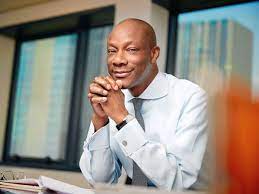 Guaranty Trust Holding Company Plc (GTCO) has released its Unaudited Consolidated and Separate Financial Statements for the period ended March 31, 2023, to the Nigerian Exchange Group (NGX) and London Stock Exchange (LSE).
The Group reported profit before tax of N74.1billion, representing an increase of 36.5per cent over the N54.3billion recorded in the corresponding period ended March 2022.
The Group's loan book (net) dipped by 1.5per cent from N1.88trillion recorded as at December 2022 to N1.86trillion in March 2023, while deposit liabilities increased by 9.9per cent from N4.61trillion in December 2022 to N5.07trillion in March 2023.
The Group's balance sheet remained well structured and resilient with total assets and shareholders' funds closing at N6.7trillion and N975.6billion, respectively.
Full Impact Capital Adequacy Ratio (CAR) remained very strong, closing at 23.2 per cent, while asset quality was sustained as IFRS 9 Stage 3 Loans ratio and Cost of Risk (COR) closed at 5.4 per cent and 0.2 per cent in March 2023 from 5.2 per cent and 0.6 per cent in December 2022, respectively.
Commenting on the results, the Group's Chief Executive Officer, Mr. Segun Agbaje, in a statement said: "Our first quarter results reflect the strength of the GTCO franchise, the quality of our decision making, and the unfolding success of our efforts towards becoming a leading financial services company in Africa.
"Despite severe headwinds, we delivered a decent performance, recording growth across key revenue lines. We are also not relenting in our resolve to better outcomes for people and businesses within our financial ecosystem.
"2023 is shaping up to be another interesting year. Some of the challenges from the past few years are still lingering, and uncertainties ahead would test the resilience of most economies and businesses. We are confident in our positioning as a thriving financial services company underpinned by strong business fundamentals and will continue to benefit from a well-diversified earnings base."
Overall, the Group continues to post one of the best metrics in the Nigerian Financial Services industry in terms of key financial ratios i.e., Pre-Tax Return on Equity (ROAE) of 31.1 per cent, Pre-Tax Return on Assets (ROAA) of 4.5per cent, Full Impact Capital Adequacy Ratio (CAR) of 23.2per cent and Cost to Income ratio of 43.1per cent.