GTCO, Zenith Bank, 2 other Tier-1 banks report N563.21bn bad loans in 2022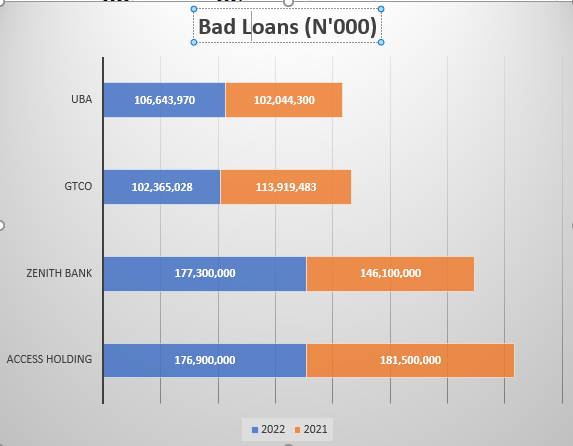 Leading banks in Nigeria, Guaranty Trust Holding Plc (GTCO), Zenith Bank Plc, United Bank for Africa Plc and Access Holdings Plc have reported N563.21billion bad loans or Non-Performing Loan (NPL) in 2022, an increase of about four per cent from N543.56billion reported in 2021.
The reported bad loans in the period under review is on the backdrop of double-digit inflation rate and severe domestic and foreign macroeconomy challenges facing the country.
The four Tier-1 banks reported N15.09trillion gross loans in 2022, an increase of 19.14per cent from N12.57trillion reported in 2021.
The breakdown of the bad loans showed that GTCO in 2022 financial year reported N102.37billion as against N113.92billion in 2021, while Zenith Bank recorded N177.37billion bad loans in 2022 from N146.1billion in 2021.
In addition, Access Holdings reported N176.9billion bad loans in 2022 from N181.5billion in 2021 as UBA's bad loans moved to N106.64billion in 2022 down from N146.1billion in 2021.
GTCO is the only Tier-1 bank with NPL ratio above the Central Bank of Nigeria (CBN) five per cent threshold.
The CBN had disclosed that average NPL ratio in the banking sector closed 2022 at 4.2 per cent from 4.9 per cent in 2021, attributable to write-offs, restructuring of facilities, Global Standing Instruction (GSI) and sound credit risk management by banks.
Specifically, GTCO closed 2022 with NPL ratio at 5.19per cent from 6.04 per cent in 2021. However, UBA's NPL ratio dropped to 3.10 per cent in 2022 from 3.60 per cent in 2021, while Zenith Bank's NPL ratio hits 4.30 per cent in 2022 from 4.20per cent reported in 2021.
GTCO in a presentation to investors and analysts said: "The Group's IFRS 9 Stage 3 loans closed at 5.2per cent in 2022 from 6.04 per cent in 2021. With Retail and Others emerged as Sectors with the highest NPL – 22.1 per cent and 20.5per cent.
"IFRS 9 Stage 3 Loans improved to N102.8billion in 2022 from N113.9billion in 2021, primarily driven by the deleveraging of Ghana and Kenya's Loan books via the realization of pledged collaterals.
"IFRS 9 Balance Sheet Impairment Allowance for Stage 3/Lifetime Credit Impaired exposures closed at N54.9billion representing 53.4per cent coverage of Loans in this classification.
"In aggregate terms (including Regulatory Risk Reserves of N93.9billion), the Group has adequate coverage of 175.5per cent for its IFRS 9 Stage 3 loans /NPLs. This position is consistent with the Group's plan to maintain 100per cent coverage of its NPLs."
Access Holdings saw its NPL ratio dropping to 3.10 per cent in 2022 from four per cent in 2021.
"Eighty nine per cent of gross loans in stage 1 classification underpinned by strong asset performance and minimal credit risk in the loan portfolio," the management of Access Holdings said.
Westernpost gathered that key sectors such as general commerce, Oil & Gas and manufacturing were contributing to these banks bad loans.
Meanwhile, stakeholders have called on banks managers to take caution lending to real sector.
The Deputy Governor, Economic Policy, CBN, Kingsley Obiora in his personal statement during the first Monetary Policy Committee (MPC) in January 2023 said the total gross credit increased by N5.14 trillion or 20.93 per cent between the end of December 2021 and December 2022, from N24.57 trillion to N29.72 trillion, due to the increase in the industry funding base as well as the CBN's directive on LDR, which has encouraged banks to increase lending to the real sector of the economy, and business strategy and competition.