Haruna Ishola, the father of Apala music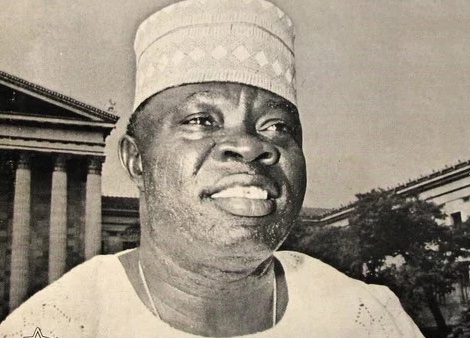 by Ayomide Olaniyan ,
Although the history of Apala music is a bit muddy, its creation and popularity is associated with the late and legendary Haruna Ishola. Born in Igbaire Oko-Sopin, Ijebu-Igbo (now Ogun state) in 1919, Haruna Ishola Adebayo Bello, who was popularly known as "Baba Ngani Agba," began his journey into music at a young age. Until his death in 1983, he was regarded as the father of Apala music, achieving great success both locally and internationally.
Apala music is claimed by some to have originated from Ede, a city in South-Western Nigeria. According to traditional sources, Apala music can be traced to 1938 when a man known as Balogun alongside his son Tijani emerged as Apala vocalists. Another report stated that Apala music was already in existence before then – a man named Ajadi Ilorin is said to have been performing Apala since 1930. There have also been conjectures that Apala sprung from different Yoruba sub-groups which is why there are diverse styles of Apala music including Apala San-an, Apala Songa, Apala Igunnu and more. Apala, like Fuji music, evolved as an improvisational style of Were – it was once known among the Yoruba Muslim community back then as "Ere Fowo Beti".
Before Haruna Ishola renamed the genre to 'Apala' in 1947, it was initially known as 'Oshugbo' and 'Area'. Haruna Ishola's son, Musiliu 'Haruna' Ishola, who continued his father's legacy as an Apala musician, also revealed in an interview that his grandfather and forefathers referred to the genre as 'Ewele,' mentioning that the music was not accompanied with drums until his father came in contact with a drummer, after which he incorporated drums and called the music 'Apala'.
Apala music is mainly made up of instruments like Sekere (gourd rattle), Agidigbo (thumb piano), and Agogo (bell), and talking drums such as Gangan. A highly percussive music, Apala was created as a form of cultural rebellion to the British Empire's colonial rule over Nigeria which came to an end when the country gained its independence in 1960. In a bid to go against the grain, performers of Apala, like Ishola, resisted incorporating western instrumentation in the genre. Though, over time the genre was stripped of its religious undertones as it grew more and more popular over the years. It also began to draw influences from different genres like Cuban music, adopting instruments such as Ogido – known as Akuba locally and is shaped like a Conga drum but bigger in size and has a wider range of sounds – claves, and Maracas.
Though Ishola was initially introduced to singing by his father, whom he lost as a young boy, it wasn't until 1947 when at the age of 28 the young man trained in goldsmithery moved to Osogbo to pursue music and form his first Apala group. From there, Ishola's music career officially kicked off with the release of his debut album titled Orimolusi Adeboye just a year later in 1948 – to mark the coronation of a powerful Oba (king) in Ijebu-Igbo. The album was released under a British record label, His Master's Voice (HMV). However, the album failed to have any commercial impact and couldn't launch Haruna Ishola to fame. Regardless, that didn't deter him from travelling far and wide as a performer, and he soon became one of the most sought-after entertainers for the Nigerian elites and socialites at Owambe parties. Throughout the '50s, he reigned supreme as he and his Apala group travelled around the South-West region to make their mark on Nigerian socialites with his repertoire of musical performances.
Things took a positive turn for the singer in 1955 when he released a re-recorded version of his 1948 album following the death of Oba Adeboye in a tragic accident. The album amassed massive sales as Haruna Ishola rose to acclaim, ultimately becoming the most popular and revered Apala musician in Nigeria. He earned a reputation for his stylistic use of Yoruba proverbs and Quranic recitations in his songs. As was typical with Apala artists, Haruna Ishola opted against adopting western musical instruments in his music throughout his career. This contributed heavily to his success because the people resonated deeply with music that was devoid of any western influences, which they believed represented their defiance against British colonial rule.
During his performances, Haruna Ishola would often sit alongside his band; a chorus of singers and instrumentalists that played instruments like Gangan, Agogo, Akuba, and the Agidigbo (lamellophone), which was pivotal in giving Apala its unique sound. He was exceptionally gifted at praise singing and he would beguile his audience with his powerful vocals. As his fame spread across the continent, Haruna Ishola became more than a musician; he was a social commentator, a philanthropist, and a chronicler of historical events. His lyrics were thought-provoking and he would ponder about life and profound issues, singing in parables and anecdotes on records like Gani Alarape where he sang "Bi ina ba wole, okunkun n la ti salo o. Ina ran ota lo ma jo." which translates to "When light enters, it chases the darkness away. When the fire burns, the enemies are set ablaze."
In 1960, after Nigeria gained its independence, Ishola released a song "Punctuality is the soul of business" under Decca Records (another British record label that later became a subsidiary of Universal Music Group in 1980). It was also under Decca Records that he released his highest-selling album Oroki Social Club in 1971, which reportedly sold more than 5 million copies. Oroki social club started as a political movement in the 1960s when Akintola-led government continually oppressed the followers of Chief Obafemi Awolowo – Chief Samuel Akintola and Chief Obafemi Awolowo were adversaries in the 1962 elections. The aforementioned followers of Obafemi Awolowo were a group of politically-inclined youths (51 of them) in Osogbo who came up with the name of the club during a debate where they were devising a plan to be more involved in the affairs of the town. Several members of Oroki social club became influential politicians that played a central role in the development and progressiveness of Osogbo. They were acknowledged by both the elites and everyday citizens for how they conducted themselves as a social club and the impact they had on the socio-political affairs of Osogbo. The title track on Ishola's album paid homage to a prestigious nightclub and political headquarters in Osogbo, where Ishola often performed to a teeming audience for a protracted period of time – ranging between four to ten hours. On the track, he sang "Students, come and dance our music, Apala is very easy fenikeni." The album's massive success led to an increased popularity for the club as well as its founding members.
Haruna Ishola was also one of the first Nigerian artists and the first Apala musician to go on an extensive musical tour across the world including countries like France, Sweden, USA, UK, Italy, and West Germany. He released an album titled On my way to London after his return from his London tour, singing "On my way to London ko s'ewu rara" which translates to "On my way to London, there was no peril". Due to an incessant demand for his music, Haruna Ishola was recognized as one of the richest Nigerian musicians of his time, eliciting awe from westerners who were stunned by his wealth and affluence. He frequented London and was said to have received welcoming gestures from bank managers upon his arrival.
Then, in 1969, Haruna Ishola founded a record label STAR Records Ltd., in partnership with renowned Juju musician, I.K Dairo. STAR Records was the first record label owned by African artists. Under this label, Haruna Ishola continued to blossom as he released records like Eni Ti Olorun Se Fun, Ire Owe Pelu Omo Dakun Tomi Wa and Alaye Oro Lorin Tiwa. In the early stages of the record label, most of Haruna Ishola's releases were pressed by Record Manufactures Nigeria Ltd. or Decca (in London), before founding his own record company Phonodisk in 1979, which had a pressing plant and a recording studio. The label became home to several rising artists that benefited from the structure of the label. Before founding STAR Records, Haruna Ishola had initially established a record label, partnering with Nurudeen Alowonle who served as the company's Managing Director, as well as two other businessmen. However, the partnership was dissolved after the Managing Director was caught embezzling profits from records. Even after the dissolution, Haruna Ishola and Nurudeen Alowonle fought a protracted legal battle over the use of the name of the partnership.
There was a shift in the music industry as there was a proliferation of digital music due to incessant bans of live performances in the '80s. Though, even in that era, Haruna Ishola continued to flourish and was widely acknowledged as the pioneer of the Apala genre. In 1981, he became a Member of the Order of the Niger (M.O.N), awarded to him by Alhaji Shehu Shagari, President of the Federal Republic of Nigeria, in recognition of his feats. Although he was rivalled by other acts like Kasunmu Adio, Ajao Oru (supposedly the first African artist to record an album for a British record label, Philips Recording Company) and Sefiu Ayan, the only other name that reached towering heights and vied with Haruna Ishola in Apala music was Ayinla Omowura, who at some point feuded with Haruna Ishola before later acknowledging him as his superior. Haruna Ishola died in 1983 and his son, Musiliu 'Haruna' Ishola, continued his legacy, attaining massive success in the '90s and early '00s, building on his father's template.
Apala suffered a steep decline in the mid '00s as Nigerian music underwent a change in sound and style, but Neo-Fuji artists like Terry Apala, Qdot and Seyi Vibez have continuously infused elements of Apala in their music, which is not only evident in their cadence but also in their ingenious use of Yoruba to deliver riveting poetic lines and storytelling that captures the attention of listeners, giving credence to Haruna Ishola and Apala's enduring influence on contemporary Nigerian music.
The fantastic history of fuji music
This is the story of Nigeria's fast and furious fuji music, from it's origins in Yoruba-Muslim culture to its modern hip-hop progenitors. Dive into the fanatic sound that sprung rivalries, caused mayhem and lit up dancefloors from its humble roots to the global stage.
Source: Pan African Music