Heavens embrace Tinubu at polling stations, By Kunle Awosiyan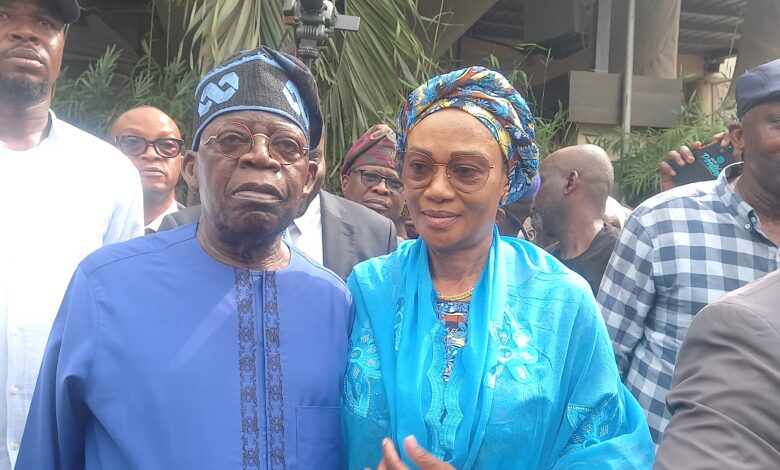 When he arrived Kafi Street, Alausa Ikeja on Saturday morning, the weather suddenly changed. We thought it would rain because the sky unexpectedly appeared cloudy as he walked from Sunday Adigun Street, his mother's house, towards his own unit to cast his vote.
It was so rowdy that I had to climb to peep through the numerous camera lenses to see Asiwaju Bola Ahmed Tinubu, the APC presidential candidate.
Dressed in blue kaftan and standing with his wife, Senator Oluremi, in the crowd, Tinubu did his accreditation, collected a ballot paper and cast his vote in style.
It was a gathering of journalists, both local and foreign. However, we could only manage to take his pictures because the crowd was so heavy while the interview was shifted to his home in Bourdillon, Ikoyi.
Of course he won his polling unit and said he was confident of victory. Tinubu has worked so hard to be there, the crowd at his polling unit attested to that on Saturday.
"I'm not going to vote but if I have my chance, I will vote for Tinubu, a journalist has said. Tunde is now a lecturer at the Pan-Atlantic University and an erstwhile Reuter Photojournalist. He is a friend and a doctoral (PhD) student in media photography.
He said, "I was in Ibadan to cover the visit of Tinubu to Governor Seyi Makinde of Oyo State. Tinubu was with the governor for about three hours and in another meeting Tinubu stood throughout to deliver his speech. He is sound, strong and healthy. My coverage of him was deliberate. Tinubu is sharp throughout."
At Kafi and beyond, however, there was voter apathy in many areas of Lagos on Saturday but this will not stop Tinubu from winning this election, the apathy has only defined the electoral values of the so called Lagosians many of whom refused to troop out due to one reason or another.
The apathy, it was gathered extended to other parts of the southwestern region while voters trooped out in their large number in the north to exercise their franchise. There was apathy in the east too.
The apathy in the south probably shows that truly it is the southern voters that sell their votes and since there is no cash to buy it, the sellers kept indoor. Or that the southerners are afraid due to earlier drums of violence.
A few results from polling units had been released to the public by some party agents, which showed that the northern voters were determined to have a Nigerian president of southern extraction.
Nothing has changed in Lagos voting pattern and the results that are being released by party agents to their social media platforms except that the major strongholds of the Peoples Democratic Party had been taken over by the Labour Party.
Nevertheless, Obi will only win half of what Tinubu will win in Lagos.
This is understandable and it is about Peter Obi and Igbo syndrome. Many of the voters who live around Satellite Town, Amuwo Odofin Local Government Area of Lagos, Ikate Area of Surulere, Lekki Area of Lagos where there are more Igbo voters did it for LP instead of their former PDP.
The LP votes in Amuwo Odofin and parts of Surulere areas are good but they are being nullified by the votes in Ikeja, Lagos Island, Badagry, Epe, Ijaiye, Alimosho, Mushin areas of Lagos where the Yorubas are largely residing.
It was gathered that Obi of Labour Party is recording tremendous votes in the east and that APC and Atiku Abubakar of PDP may not even get 25 per cent of the required votes in some states in the southeast.
The pattern for many years was that the large chunks of the votes in the southeast had always gone to PDP but Obi's LP had taken over completely. It reflects ethnic tone unlike in the southwest where Obi still has some good votes, perhaps because there are many Igbo living and trading in the southwest.
Much has not been heard about the results in the Southsouth region due to skirmishes but there are indications that Labour Party is making life difficult for the PDP while APC will have its required 25 per cent. Surprisingly, APC is pulling some weights in Akwa Ibom while the votes are shared in Rivers.
It will be Tinubu at the end of these elections because his main challenger is now Obi in the south and in spite of the Labour Party's good traction, APC will win according to results that are being released in the southwest, six states; Southeast, five states, southsouth, six states.
Now that APC and LP are flexing muscles in the south with PDP struggling, the battle will be won in the north where there is lesser apathy but unfortunately Obi has no chance at all.
In the north, it is between Tinubu and Atiku. Investigation revealed that Tinubu is extending his lead in most of the APC states and Atiku is taking greater number of the PDP states while Obi is no where to be found.
In both north and south regions, Tinubu remains the common factor among the three strong contenders. He will defeat Obi with slight margin in the south as PDP has been relegated. At present Labour Party is taking Delta, the former PDP stronghold while APC is coming behind. This is unprecedented.
In Kano, NNPP Rabiu Kwankwaso's influence is translating to big Kano votes with Tinubu in close race with him.
With the look of things, Tinubu is the only candidate that has given good fight in the south and the north with quite a good number of votes unlike Obi who is only polling in the south and Atiku who is only trying in the north.
APC has shown wider spread and national character in this election to see Tinubu's through in one of the Keenest presidential election ever conducted in this nation.
In these elections, the north has shown that the power to elect lies in the region not only because of its population but the enthusiasm of northerners to come out to vote while the south despite its good population has shown that it is not ready to propel any presidential candidate because of its lack of interest during voting.
Is jt not amazing that Tinubu knew this when he started to lobby the northern APC governors to stand with him ahead of the Saturday general election.
The sky looks misty and cloudy, it looks like the rain may fall today, so sings the legendary Reggae star and rainmaker, Majek Fasek.
Tinubu's rain and reign is due, the weather is changing, showers of blessing is about to drop.