Homecoming: Aregbesola seeks party restructuring, gets rousing welcome in Osun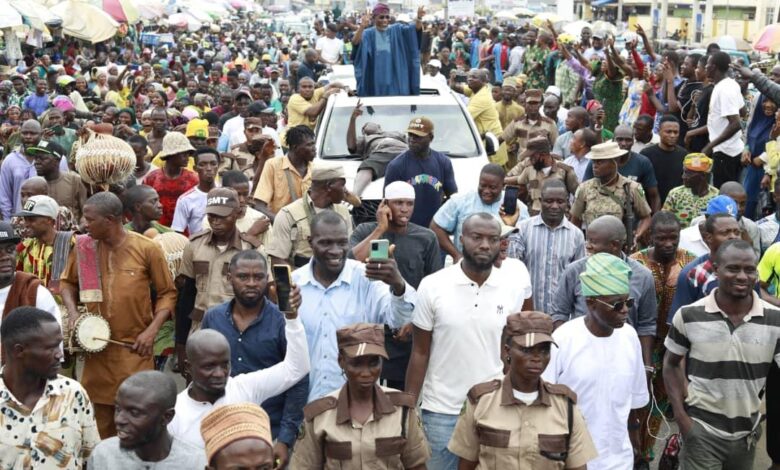 By Deborah Oladejo, Osogbo
Residents of Osun State on Wednesday trooped out to welcome immediate past Minister of Interior, Rauf Aregbesola, into the state following the completion of his tenure.
Aregbesola was elated by the warm reception given to him by thousands of members of the All Progressives Congress (APC) and other residents of the state.
The former governor of the state paid homage to the Owa Obokun of Ijesaland, Oba (Dr.) Adekunle Aromolaran and the Ataoja of Osogbo, Oba Jimoh Olanipekun Oyetunji, in appreciation of the traditional rulers' support for his political career.
Speaking at the Freedom Park, Osogbo, Aregbesola said it was unfortunate that some people mismanaged the affairs of the APC in the state and ran it aground.
He said he had in 2019 called for the unity of the party with a warning that failure to unite different interest groups would not produce any good result.
"I have come back to thank you, the people of Osun and those who made it possible for me to progress in politics.
"I need to thank Asiwaju Bola Tinubu, it was through him that I became a Commissioner in Lagos State and a two-term governor in Osun.
"I appreciate former President Muhammadu Buhari; after God, it was him that made me the minister which I just concluded.
"I am here today to seek restructuring of the party. I didn't offend anybody, but whoever feels that we offend him or her should forgive us.
"We seek forgiveness from those who thought we offended and those who sought our downfall.
"We were here in 2019 after the Supreme Court affirmed the mandate of the former governor. I called for unity in the party. I warned that disunity will not produce any good result. But devil didn't allow them (those who handled the party affairs) to listen.
"We seek forgiveness from those who are smearing our image, though we never offended them.
"We supported them with all I have to see to their success. I didn't ask for anything from them. I need to emphasise that I didn't ask for anything from them. But they chose to repay evil for good.
"However, we are here for the restructuring of the party. That is why we are begging anybody that feels that we offended him or her to forgive us," Aregbesola said.