Humanitarian minister distributes food items to rescued families, Chibok girls, others at Bulumkutu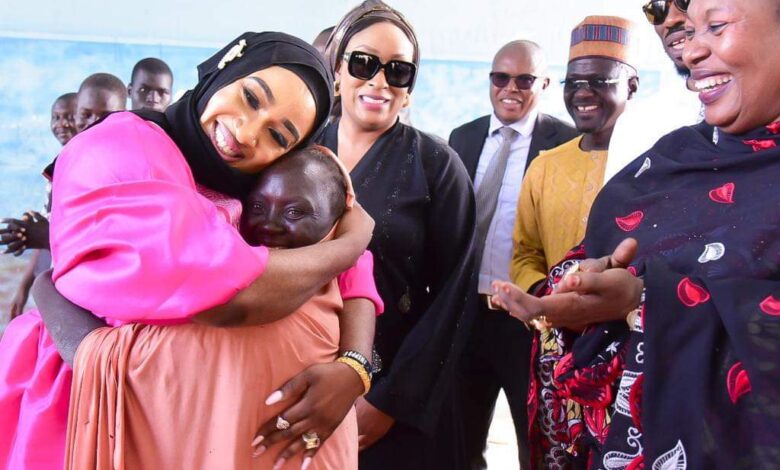 The Minister of Humanitarian Affairs and Poverty Alleviation, Betta Edu, has distributed food items to hundreds of families living at the Bulumkutu rehabilitation camp in Maiduguri, Borno State as part of Federal Government's immediate relief package to support them.
Beneficiaries of the Federal Government's gesture at the camp include 14 rescued Chibok girls and their children who have been undergoing rehabilitation at camp.
Edu who was accompanied to the camp by the Borno State Commissioner for Women Affairs and Social Development, Hajia Zuwaira Gambo, and the Acting Hon Commissioner for National Commission for Refugees Migrants and IDPs, Ambassador Catherine Udidah, assured that the gesture would be extended to other IDP camps in the state.
Food items distributed to the IDPs by the minister include hundreds of bags of rice, corn, beans, garri, vegetable oil, maggi and other food items.
She explained that the relief items were part of President Bola Tinubu's Renewed Hope Agenda aimed at alleviating the suffering of Nigerians exposed to humanitarian crisis in Borno state, especially women and children.
According to her, President Tinubu has promised to lift millions of Nigerians out of poverty, which is part of strategy to provide long term solutions to insecurity and insurgency in the country.
The minister said the camp was temporary and disclosed that efforts were being made to permanently relocate and integrate them back to their homes.
She pledged that the Federal Government under President Tinubu would not leave them unattended to.
The minister explained that officials of her ministry were on ground to continue to provide psycho-socio support for them, assuring that she would be visiting them periodically.
Earlier the Commissioner for Women Affairs and Social Development, Hajia Zuwaira Gambo, commended the minister for visiting the camp and identifying with the IDPs.
Gambo who spoke in Kanuri language informed the minister that the victims were happy to receive her into the camp being her first visit to Borno state as Minister for Humanitarian Affairs and Poverty Alleviation.