I don't owe Imo workers salary, says Uzodinma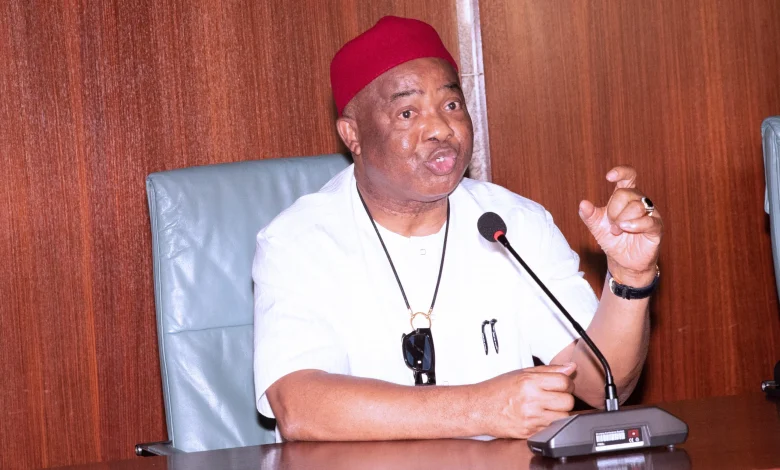 Imo State Governor Hope Uzodinma has said his administration has not owed any state civil servant salaries since he assumed office in January 2020.
Uzodinma said this while briefing State House reporters on Thursday after meeting with President Bola Tinubu for the official handing of the flag of the ruling All Progressive Congress.
The presentation of the flagging by President Tinubu comes on the heels of the upcoming governorship elections in Imo, Kogi and Bayelsa states.
The event was attended by the All Progressives Congress National Chairman, Abdulliah Ganduje, outgoing governor of Kogi state, Yahaya Bello, the Kogi state governorship candidate, Usman Ododo, and the Bayelsa State governorship candidate Timipre Sylvia.
Speaking on the issues on non-payment of salaries, Uzodinma refuted claims of owing salaries to any civil servant in Imo state.
He also stated that he only pays state civil servants and not federal civil servants in his state.
Therefore, the governor said he challenges anyone working in the state civil service to come out to say that between January 15, 2020 till date that he/she did not receive salary in any of the months.
According to him, there is no month his administration did not pay salary before the 30th.
He said, "Thank you, I think this is a very good opportunity for me to clear these so-called allegations.
"I came to Imo State as the governor January 15, 2020 from 2020 January till date, there is no month we did not pay salary before 30th.
"But the situation is that, before this time, I thought that the labour union is a democratic entity that allows the opinion of people.
"I don't pay federal civil servants. I only pay Imo state civil servants.
"And I challenge any Imo State civil servant to come up to say that between 2020 January 15 till date that he/she did not recieve salary in any of the months."