I don't support brutalization, but NLC leaders are being driven by political motives – Oshiomole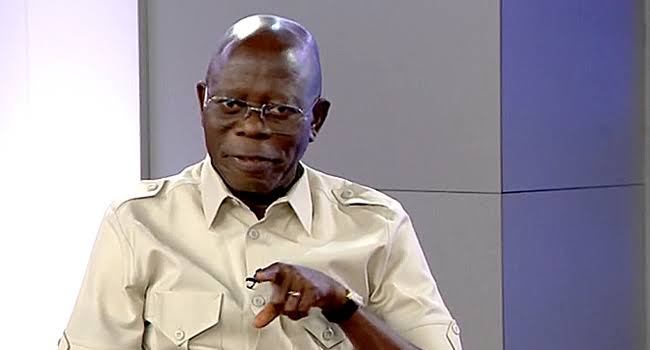 Former Edo State Hovernor Adams Oshiomhole condemned the attack on Joe Ajaero, the national president of the Nigeria Labour Congress (NLC).
Oshiomhole made this statement on Tuesday at the Presidential Villa in Abuja.
Oshiomhole, a former NLC president between 1999 and 2007 stated that he opposes the brutalization of any Nigerian, even the labour leader
"Let me be clear. I do not support the brutalisation of any Nigerian. I emphasise, any Nigerian, including a journalist, including the unemployed. Of course, including labour leader," he said.
Therefore, Oshiomole contended that the NLC was incorrect in its requests, stating that the labour union ought to have concentrated on pressuring state governments to enact a N30,000 minimum wage.
The senator for Edo East continued by saying that the minimum wage should have been a worry for Nigerians given their current circumstances and what he called the "hierarchy of needs."
"So if you mobilise private sector workers, state employees workers, local government workers, and now there is an agreement on N35,000 across the board, I want to see NLC saying there will be no sleep in any state where this is not being implemented," he said.
A restraining injunction was obtained by the Federal Government on Friday to prevent organised labour from initiating industrial action on November 14.
The restraining order was issued by Justice Benedict Bakwaph Kanyip, the President of the court, in response to an ex-parte application filed by the Federal Government, the Attorney General of the Federation, the Minister of Justice, and others.
Despite the court order, the national leadership of the NLC had planned to hold a protest in Imo State over an alleged violation and abuse of the rights and privileges of workers by the Imo State Government.
But Ajaero would later be brutalized and arrested by police operatives at the state capital.
Reacting, Oshiomhole asserted that the NLC president's actions were motivated more by politics than by the needs of the nation's labour force.
He declared that if the NLC's demands were centred on the welfare and minimum pay of the workers, he would have backed the organization's continuous industrial action.
"Unfortunately, this strike is not about those issues. And I think we have to be careful not to mix our political opinion with our responsibilities because the issues confronting workers are so many that they should become the priority," he said.
He suggested that the NLC president was supporting a candidate in the governorship election in Imo State.
Oshiomhole asserted that he maintained no friendships with Edo State politicians while serving as president of the NLC.
"We must recognise that however hard you try when it comes to politics, people are going to have different reasons for supporting different candidates. You have to be careful not to be seen to be doing the bidding of a particular candidate or a particular political party," he said apparently referring to the alleged political partisanship of Mr Ajaero.
"I was not anybody's boy. I wanted to make my decisions. I took responsibility for those decisions. You couldn't find me in the house of a politician," Mr Oshiomhole said, recalling his time as NLC president.
Westernpost had reported how the federal government described the latest industrial action by organised labour as an ego-tripping attempt to blackmail the current administration of President Bola Tinubu.
In a statement released on Monday, Bayo Onanuga, the President's Special Advisor on Information and Strategy, claimed that the strike called by the TUC and NLC amounted to contempt of court.
He said: "Calling out workers on a national strike over a personal issue of a labour leader despite a clear court order against any industrial action amounts to an abuse of privilege.
"Power at any level should never be used to settle personal scores. Rather, it should be used to promote collective progress and advance national interest.
"This flagrant disobedience to court order and lack of respect for the judiciary should not be what the organised Labour would champion.
"The labour movement has always been a champion of the rule of law and respect for the judiciary. It is a sad irony that the current labour leaders have shown disdain and utter disregard for court order."