I led plot to stop you from becoming Reps speaker, Wike tells Gbajabiamila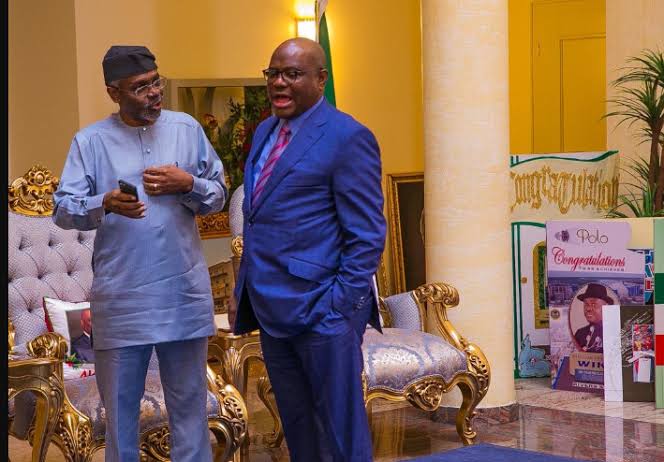 Rivers State Governor Nyesom, Wike has revealed plot by himself and governors of the Peoples Democratic Party to stop Senate President, Ahmed Lawan and House of Representatives Speaker, Femi Gbajabiamila from being elected by their colleagues in 2019.
Wike was speaking on Friday during the commissioning of the Rivers State Legislative Quarters in Port Harcourt by Gbajabiamila.
The governor however said while himself and the PDP governors met at the Rivers State Governor's Lodge to hatch the plot, some of them went ahead to betray the party by supporting Gbajabiamila and Lawan.
He, however, said he did all he did then for the interest of the PDP.
"I have no regret not helping your party that time, even now. My business is to make your party uncomfortable. So I was supporting— it was Rivers State Lodge in Abuja, where we plotted 'you should not go'. We plotted but PDP governors sold me out. They supported you, even when we agreed that 'Femi' should not go, Lawan should not go.
"As a party, they went back and supported you. That is why you made Ndudi Elumelu the Minority Leader. We wrote you a letter that it was not what we wanted," he said.
Gbajabiamila while commissioning the Legislative Quarters built by Wike's administration in Port Harcourt, told Wike that in politics there was no permanent enemy and permanent friend but permanent interest.
He said that the same PDP leaders Wike plotted with to stop him (Gbajabiamila) from being Speaker in 2019 are the same people that stopped Wike from becoming PDP presidential candidate and also stopped Atiku Abubakar from picking him as vice presidential candidate.