I regret supporting emergence of Tambuwal as speaker – Gbajabiamila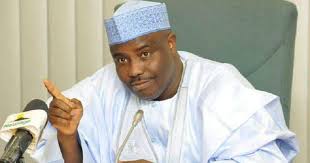 Speaker of the House of Representatives, Femi Gbajabiamila, has expressed his regret for supporting the process that resulted in Aminu Tambuwal's election as Speaker in 2011.
He stated this during a meeting with newly elected representatives in Abuja on Wednesday.
Speaking to the members-elect, Gbajabiamila advised them to respect the party's decision regarding the zoning formula for the leadership of the House of Representatives.
The All Progressives Congress (APC) had nominated Tajudeen Abbas and Benjamin Kalu as their preferred candidates for the positions of Speaker and Deputy Speaker.
While emphasizing the importance of party loyalty, Gbajabiamila stated: "I stand before you here as a testament to what party loyalty and consistency can do in your life. I have a story to tell and I am sure everybody has one story or the other to tell. My story may not be unique. I came here on the platform of a party.
"We don't have independent candidacy in Nigeria. It's not in our constitution or laws. Perhaps, one day, we will get to that point. But my core belief is that if you come here on the platform of a party, there is a saying all over the world that your party is always supreme. You will disagree with your party just like people will disagree amongst family members, but at the end of the day, the party is an organized structure."
Highlighting his own experience, Gbajabiamila revealed that he regrets supporting Tambuwal's emergence as Speaker in 2011.
He acknowledged his previous role as the pioneer leader of the "house project" that led to Tambuwal's appointment. However, he expressed remorse for his decision.
"In 2011, when we installed Tambuwal as the Speaker, I regretted it," Gbajabiamila admitted.