I'll give my utmost best as president, Tinubu says after victory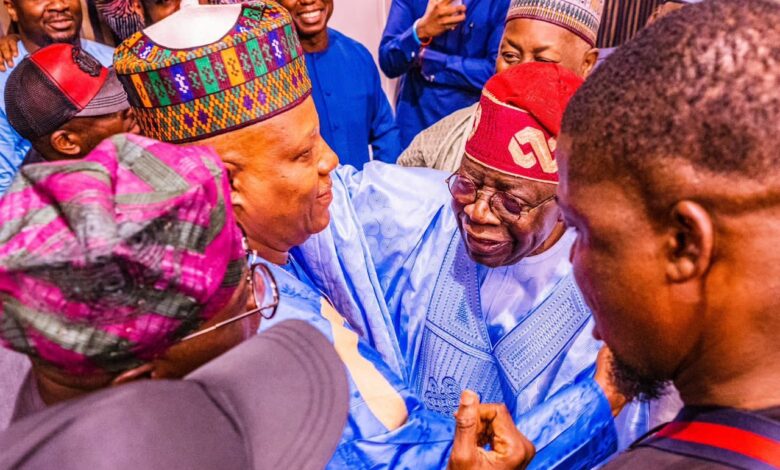 President-elect Asiwaju Bola Tinubu has promised to give his utmost best as president after he was declared winner of Saturday's presidential election by the Independent National Electoral Commission.
In his victory speech Wednesday morning, Tinubu thanked Nigerians for finding him worthy of the nation's number one seat.
He asked all Nigerians despite their political affiliations to join hands in building the country.
He said: "I am profoundly humbled that you have elected me to serve as the 16th president of our beloved republic. This is a shining moment in the life of any man and affirmation of our democratic existence. From my heart, I say thank you.
"Whether you are Batified, Atikulated, Obidient, Kwankwasiyya, or have any other political affiliation, you voted for a better, more hopeful nation and I thank you for your participation and dedication to our democracy.
"You decided to place your trust in the democratic vision of a Nigeria founded on shared prosperity and one nurtured by the ideals of unity, justice, peace and tolerance. Renewed hope has dawned in Nigeria."
Tinubu also extended a hand of fellowship to all his co-contestants, asking them to join hands with him.
"To my fellow candidates, former VP Atiku, former governor Kwankwaso, former governor Obi and all others, I extend the hand of friendship. This was a competitive, high-spirited campaign.
"You have my utmost respect.
"Political competition must now give way to political conciliation and inclusive governance.
"During the election, you may have been my opponent but you were never my enemy. In my heart, you are my brothers.
"Still, I know some candidates will be hard put to accept the election results. It is your right to seek legal recourse. What is neither right nor defensible is for anybody to resort to violence. Any challenge to the electoral outcome should be made in a court of law, and not in the streets.
"I also ask my supporters to let peace reign and tensions fade. We ran a principled, peaceful and progressive campaign. The aftermath of our campaign must be as benign.
"Yes, there are divisions amongst us that should not exist. Many people are uncertain, angry and hurt; I reach out to every one of you. Let the better aspects of our humanity step forward at this fateful moment. Let us begin to heal and bring calm to our nation.
"Now, to you, the young people of this country, I hear you loud and clear. I understand your pains, your yearnings for good governance, a functional economy and a safe nation that protects you and your future.
"I am aware that for many of you Nigeria has become a place of abiding challenges limiting your ability to see a bright future for yourselves.
"Remodeling our precious national home requires the harmonious efforts of all of us, especially the youth. Working together, we shall move this nation as never before.
"My running mate, Vice President-elect Shettima, and I understand the challenges ahead. More importantly, we also understand and deeply value the talent and innate goodness of you, the Nigerian people. We pledge to listen and to do the difficult things, the big deeds, that put us on the path of irreversible progress. Hold us firmly to account, but please give us a chance first.
"Together, we shall build a brighter and more productive society for today, tomorrow and for years to come.
"Today, you have given me the greatest honor you can bestow on one man.
"In return, I will give you my utmost as your next president and commander-in-chief. Peace, unity and prosperity shall be the cornerstones of the society we intend to build. When you gaze upon what we shall accomplish in the coming years, you shall speak with pride at being a Nigerian,"he added.