I'll prove I won presidential election – Obi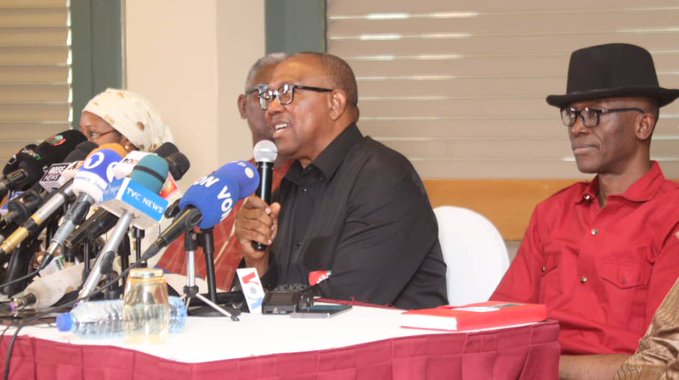 …promises to approach court for redress
PresidentialcCandidate of the Labour Party, Peter Obi has vowed to contest the results of Saturday's presidential election in court.
Obi who addressed the press in Abuja on Thursday insisted that he won the presidential election and was ready to prove it.
The Independent National Electoral Commission(INEC) had declared presidential candidate of the All Progressives Congress (APC), Asiwaju Bola Tinubu winner of the election with a total votes of 8,794,726 ahead of Peoples Democratic Party's Atiku Abubakar in second, while Obi came third.
Obi, however, said the election was not free and fair as it didn't meet the minimum standard expected.
He said: "The election that we just witnessed had been conducted and the results announced as programmed. It is a clear deviation from electoral rules and guidelines contrary to what we were promised.
"This election did not meet the minimum standard expected of a free, fair, transparent and credible election. It will go down as one of the most controversial elections ever conducted in Nigeria.
"The good and hardworking people of Nigeria have again been robbed by our supposed leaders whom they trusted.
"Let me reassure the good people of Nigeria that we will explore all legal and peaceful options to reclaim our mandate. We won the election and I will prove it to Nigerians."
He added: "The process through which people come into the office is far more fundamental, more important than what they do (in office) thereafter.
"It is my belief that if you must answer your excellency, the process through which you arrive at to office must be excellent.
"We must now require that we do the right thing in order to generate the right confidence and moral authority to lead. As you know, the structure of society begins and gradually retrogresses when we act rascally and deliberately in the manipulation of rule of law and suppression of the will of the people.
"On this issue (presidential election) I am challenging the process. I will challenge this rascality for the future of the country.
"The court exists for this and they have asked me to go to court and I will be going to court.
"Please, be assured that this is not the end but the beginning of a journey for the birth of a new Nigeria.
"Datti and I remain absolutely undaunted and deeply committed to the project of a new Nigeria that will be built on honesty, transparency, fairness, justice, and equity. All the above starts with the process."