I'm ready to take 50 million Nigerians out of poverty, Tinubu assures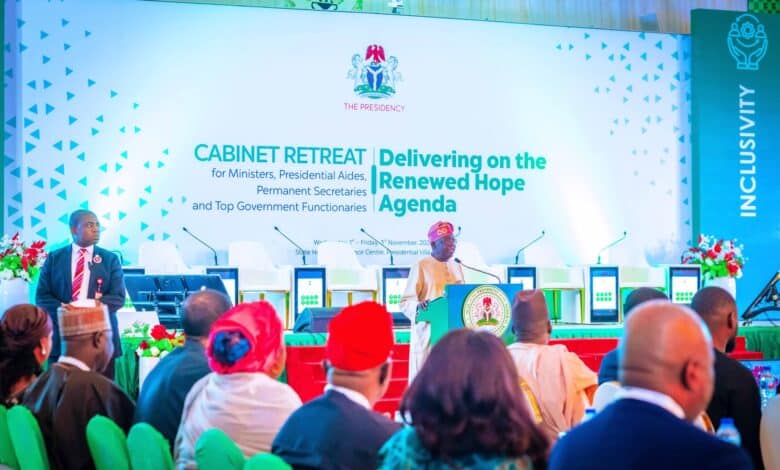 President Bola Tinubu has vowed to take about 50 million Nigerians considered to be poor out of poverty.
Tinubu said this during his opening remark at the 2023 Cabinet Retreat for Ministers, Presidential Aides, Permanent Secretaries, and top government functionaries.
The event was held at the banquet hall at the Presidential Villa.
Although the President did not provide a timeline for reaching this milestone, he did call on his ministers and other appointments to be good and priotise the poor state of the country's health system and schools.
He stated that his administration would focus on rebuilding healthcare and education for all.
The president also expressed gratitude to the World Bank, whom he described as a lending friend, saying that borrowing is not a crime.
"We will transform the economy to work for millions of our citizens. We must take 50 million people out of poverty. We must build healthcare that works for all. Look around. Don't be wicked. Look at the standard of education, look at the classrooms, and look at the roads. We can only spend the money, we will find it, we can not spend the people.
"No crime in borrowing. Thank you, World Bank, for being a lending friend. But let your achievement be homegrown. The determination that Nigeria can do it is here.
"If it had not started six months ago, we are here to switch off the light, make you included, and make all Nigerians included. Our path for tomorrow is charted for our children and grandchildren. Don't be selfish about it."
Nigeria currently has the largest number of out-of-school children in the world with an estimated number of 13.2 million, a 2018 survey conducted by the United Nations Children's Fund (UNICEF) indicates.
Most of these children are in Nigeria's northern states of Borno, Yobe, and Adamawa, where Boko Haram insecurities have disrupted academic activities.
Also In Nigeria, 40.1 per cent of people are poor according to the 2018/19 national monetary poverty line, and 63 per cen are multidimensionally poor according to the National MPI 2022.
Multidimensional poverty is higher in rural areas, where 72 per cent of people are poor, compared to 42 per cent of people in urban areas.
Speaking further, Tinubu stated that his administration would ensure it banishes the situation of extreme poverty in the country. He said poverty in Nigeria is unacceptable.
He also reaffirmed his commitment in fighting the scourge of corruption in Nigeria and providing better wages for workers in the country.
On Monday, the Minister of Budget and National Planning, Atiku Bagudu, said that President Tinubu will spend approximately N200 billion on seed, agricultural input, supplies, and agricultural tools, as well as infrastructure.
The money is expected to come from a supplementary budget of about N2 trillion for the year 2023.
President Tinubu also intends to spend N210 billion to settle pay disputes.
The president also agreed to pay the Nigeria Labour Congress N210 billion. The government specifically promised to pay N35,000 to each of the approximately 1.5 million federal employees in September, October, November, and December of 2023.