Ini Edo breaks silence on rumoured relationship with Empress Njamah's ex-lover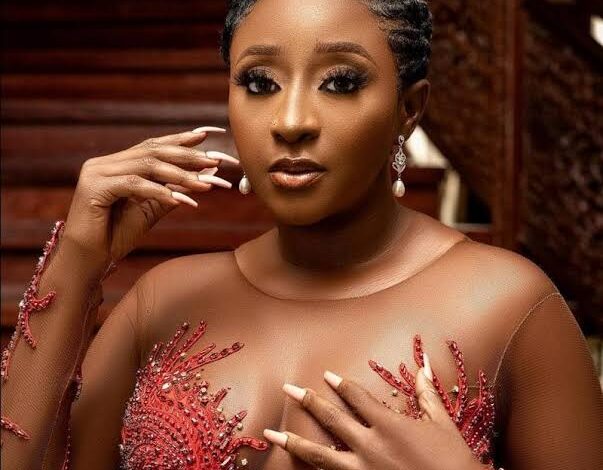 A-list Nollywood female actor, Ini Edo, has broken her silence over rumoured amorous relationship with Nicholas Jack Davis, the ex-lover of Empress Njamah.
A viral nude video of Empress making out with Nicholas recently trended across social media platforms. Empress spoke out on plots by Nicholas to blackmail and intimidate her with the x-rated videos.
Empress Njamah recently confirmed the arrest of her ex-lover — popularly called George Wade — in Liberia.
Davis was arrested for allegedly victimising over 20 women by absconding with their belongings.
However, after his arrest, a video of him and Ini surfaced on social media. Ini's passport data page was also found in his possession.
But in an Instagram live session, Ini Edo denied ever being in a relationship with the suspect, adding that she has "never met him face to face."
The actress said Wade had reached out to her under the guise of wanting to work with her on a movie project but later asked to be in a romantic relationship with her. The 'Shanty Town' star added that she blocked him when he started to "trash talk colleagues I respect."
"Somebody texted me with a foreign number sometime between September and November last year," she said.
"He said he's a movie maker and he wants to make a film with me. I asked how he got my number and he mentioned a colleague's name in Ghana.
"I'm not here to drop anybody's name. He said a colleague of mine who's his friend gave him my number. I said okay.
"He starts to chat me up talking about this film he wants to make. You know how someone just texts you once in a while and sometimes I'm like who's this?
"I have the entire chat of the time this man was chatting with me. And then he goes from there, he drifts and starts to try to go personal that he wants to have a relationship with me.
"I told him it's not adding up. You said you want to make a film now you want a relationship. I have never seen this guy face to face.
"He even starts to drop some names of my colleagues whom I really respect. If you know me very well, you'll know you can't trash-talk my friends.
"So when he started dropping names I told him this conversation is not going where it should go and I blocked him.
"Before I blocked him, I told him I was going to London because he said he needed us to see and talk about the film. I said I'm not around.
"I also knew I had to go to South Africa because I had a paid engagement that I had committed to a long time ago.
"So he said we can see in South Africa, he said send me your passport, I'll get your ticket and we can talk when we see.
"When it moved from there, I just blocked the guy because I was like I can't deal with this. I have forwarded the conversations to the girl in question.
"Two weeks later Uche called me, sent me his picture, and asked if I knew him and I told her everything and that I blocked him.
"I had no idea who this guy was, I didn't know who he was seeing, I didn't even know him at all.
"One time he called me on video call, I was at the airport going to Akwa Ibom. I never saved his number. I hung up and told him let's talk on an audio call. That was it."