IPOB leader, Ekpa declares sit-at-home in Lagos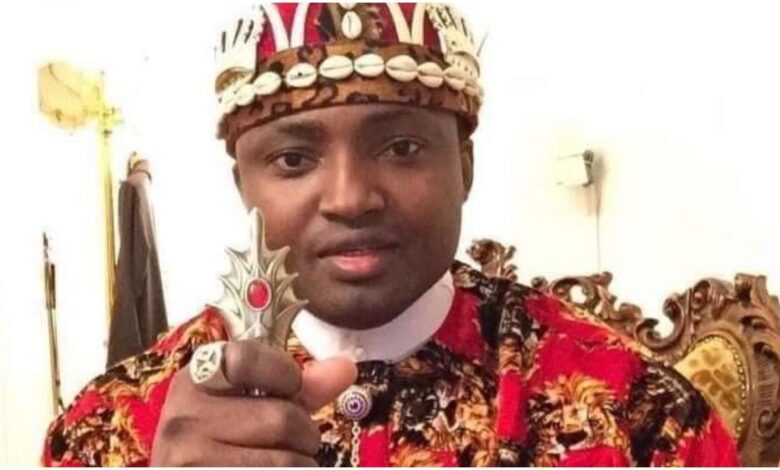 The Indigenous Peoples of Biafra (IPOB) has ordered a sit-at-home in Lagos.
The leader of the pro-Biafra group based in Finland, Simon Ekpa said the sit-at-home is to ground the Lagos economy.
He said all Igbo shops will be asked to close down in Lagos and will be offered security by the Eastern Nigeria Security Network (ENSC).
It would be recalled that IPOB has continued to order successful sit-at-home in the entire South East region
Ekpa said the declaration has the blessing of detained IPOB leader, Nnamdi Kanu saying it is what he stands for. He said the declaration has been made but that a date is yet to be chosen.
The group said the lock down will be total. Ekpa stated this in a broadcast monitored on Wednesday.
No date has been picked for the stay at home according to him.
According to Ekpa, ENSC will provide security for all the markets owned by Igbo in Lagos.
Yoruba leaders who spoke to on the announcement, said the people should ignore the call adding that Ekpa is promoting genocide which should be resisted by Yoruba and Igbo people irrespective of their religion, ethnicity or faith.
"We are going to guarantee security in Biafra and in Lagos for all the markets controlled by Igbo. We want to see all the market owners in Lagos who are Igbo. It is not about me. It is about them. "Once we finish consultations, the date will be issued and all the markets will be informed. As this is going on, we shall provide security for all the markets. Let them come and burn them. We will tell you that there are mad people everywhere. We have them in Biafra too.
"Tell Biafrans everywhere, that we will fight to protect you. Tell Igbo in Lagos to wait for consultation. They must obey the order. It is not mouth that we are making that we control Lagos. Lagos is making billions of dollars from Igbo in Lagos. "We control the market. You just watch how they are burning your market; they burn Balogun. When we put security in Balogun, anyone that comes to burn it, let us see," he said.
Ekpa asked Igbo in Lagos to dig well and prepare to protect the Igbo.
"We have the men and the training. This is an opportunity that we must not miss. This is fighting for Biafra. It is the order from IPOB worldwide," he added.
A member of Alliance for Yoruba Democratic Movements (AYDM), Popoola Ajayi said the order from IPOB is shocking.
"We are not going to take this lightly. We have asked our members and Yoruba not to attack any Igbo person. We hope the IPOB order will be annulled. We open our hands for peace, but at the same time, we are conscious of the mandate to defend our ancestral homeland from terrorists," he said.
Ajayi said it would be foolish not to take IPOP serious saying that the group is already recognised as the 10th deadliest terror group in the world.
Culled from Irohinoodua