Irish chef breaks Hilda Baci's cooking record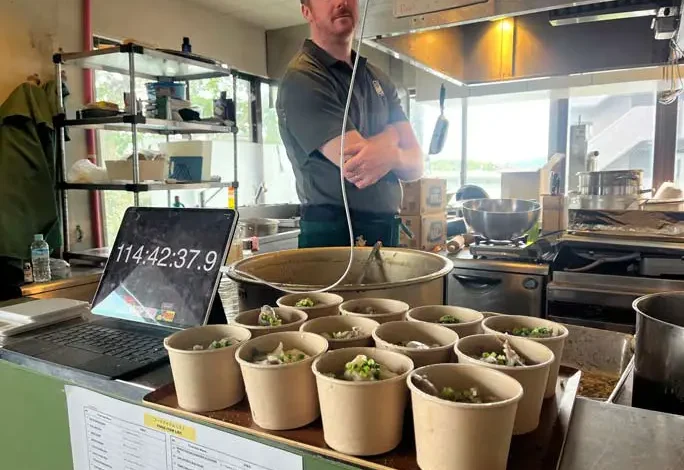 An Irish chef who runs a restaurant in Japan, Alan Fisher, has smashed two Guinness World Records titles for the longest cooking and baking marathons by an individual.
Alan Fisher cooked for 119 hours and 57 minutes and baked for 47 hours and 21 minutes, beating the previous records held by Nigerian chef Hilda Baci and American baker Wendy Sandner.
Fisher, who graduated from Dublin City University in 2008, moved to Tokyo through an overseas graduate programme and met his wife there. He opened his own restaurant, Kyojin Stewhouse, in 2014, where he serves traditional Irish dishes such as stews, soups, breads, and potatoes.
Fisher was inspired to take on the record-breaking challenge after participating in the "I Love Ireland" festival in Tokyo in March, where he learned about the longest cooking marathon record. He also wanted to turn his frustration and negativity from the COVID-19 pandemic into something positive.
"I was broke and heartbroken. To have worked so hard for so long, to give up your own savings, your own salary and then still need a loan simply to stay in business with no guarantee things will recover. That was a tough pill to swallow," he said.
Fisher faced many difficulties during his record attempt, such as making a food distribution plan to avoid wastage, filming the entire process for evidence, and overcoming physical and mental exhaustion. He also had to follow strict rules, such as cooking at least one dish per hour, taking a five-minute break every hour, and having witnesses and stewards present at all times.
Fisher received a lot of support from his family, friends, staff, customers, and the local community, who cheered him on and ate his food. He also dedicated his record attempt to his late father, who passed away in 2019.
"I'm proud to be from Ireland and I love sharing our culture. Food is my connection to home," he said.